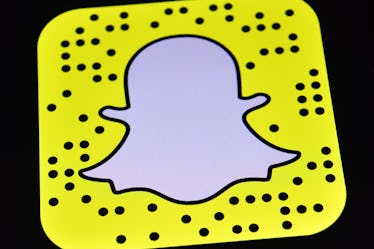 You Can Share Your 2017 Snapchat Memories Story With Friends — Here's How
Carl Court/Getty Images News/Getty Images
It's time to welcome 2018 with open arms, but before you do, have one last look at your favorite moments from 2017. Naturally, social media is here to help if you're anxious to take a trip down memory lane. Here's how to share your 2017 Snapchat Memories Story so you can relive the good times with your best buds.
Before parting ways with 2017, Snapchat will offer users who have been taking advantage of the "Memories" feature throughout the year to get a glimpse of their best photos and videos. They'll wake up to this surprise on Dec. 27 and realize they can reminisce one last time before starting to prep for that New Year's Eve party. Silly selfies, fun trips, late-night videos — it's all here. Snapchat Memories, you're a gem.
Since Memories launched in 2016 with great success — more than one-third of daily active Snapchatters swipe into the feature every day — it was about time to put it to good use. Users have been anxious to relive some of their favorite moments, and now they finally can. Though 2017 was rough for all of us, there were certainly memories we don't want to forget. Log onto the app and check out what's in store for you.
What's the point of the awesome puppy selfie if you cannot share it with loved ones, anyway? Fear not, Snapchat has your back, folks. If you're looking to pass along the magic from 2017, you're in luck.
First, you'll see a screen that reads, "A Look Back at 2017" at the top of your Memories page. Once you click on that, you'll be brought to your very own 2017 Snapchat Story.
After you click on your Story, you'll see three vertical dots at the upper righthand corner of your Snap. Once you click on those, an exporting screen will come up.
Then, you'll see an option that reads "Send Snap." This will take you to your list of your Snap BFFs. From there, you can select who will receive your Memories story.
But the fun isn't limited to Snapchat. Let's say you and your college roommate relived old times during a summer getaway... but she doesn't Snap (the horror). You can send the shots her way through another outlet. There is the option to export the Snap and send it to Facebook or Instagram, or even save it in your camera roll.
However, there is one thing to note: You can send the Snaps individually, but you cannot fire the whole thing off on Insta or Facebook (it's super lengthy). Keep that in mind before getting too anxious about sending Memories to your BFFs.
Despite the hardships we might've faced this year, one thing got all Snap professionals really excited: the return of the hot dog. This little fella rocked DJ gear and graced us with his presence... until the app decided to give him a rest. Thankfully, he made his return for the holidays (donning a Santa suit, naturally), and we can all agree that this was a Christmas miracle. Between his long-awaited return and your ability to relive the past 12 months, it's clear Snapchat is in a giving mood this holiday season, and I'm forever grateful.
This wasn't the only feature worth celebrating on Dec. 25. Snapchat also created its brand-new Lens Studio, a desktop app (compatible with both Mac and Windows) that will allow you to design and build your own augmented reality (AR) Snapchat Lenses. Let the party begin folks! The options just keep on comin'.
So as you're getting nostalgic glancing at those summer Snaps and trying to contain the LOLs after coming across all those wacky selfies, it's pretty exciting to think about all that 2018 has to offer — even in the Snapchat world. Thanks for the memories.
Check out the entire Gen Why series and other videos on Facebook and the Bustle app across Apple TV, Roku, and Amazon Fire TV.