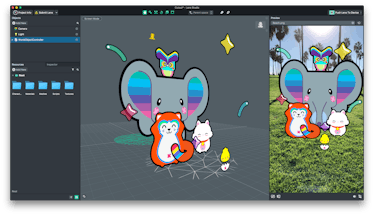 Here's How To Make Your Own 3-D Character With Snapchat's New Desktop App
Snapchat filters are no doubt a great way to pass the time. You can turn yourself into a dog or up your style with a virtual flower crown in a matter of seconds. While Snapchat does their best to keep their filters fresh, we can't forget about their World Lenses (hello, dancing hot dog). TBH, the thought of making your very own World Lens is kind of exciting. Well, that can finally become a reality when you learn how to use Snapchat's Lens Studio.
According to a Snapchat spokesperson, Lens Studio launched on Thursday, Dec. 14. Lens Studio is a desktop app (compatible with both Mac and Windows) that will allow you to design and build your own AR (augmented reality) Snapchat Lenses. According to Tech Crunch, Lens Studio is a less complex version of what the Snap AR team uses to build AR Lenses, so even though it's designed for simplicity, you're still creating with similar tools that the professionals use daily (um, super cool).
According to Snapchat, the Lenses featuring the 2-D and 3-D objects — which you'll create using Lens Studio — will live "in the world" within the rear-facing Snapchat camera. Since the AR Lenses created with Lens Studio are only supported by the rear-facing camera, you won't be able to create any selfie Lenses. Bummer.
OK, let's focus on the Lenses that you can create. The first step to building the next big Lens (dancing cheeseburger maybe?) is to download Lens Studio for free from their website. Once you have the Lens Studio app on your desktop, it will open up to the Templates page, which presents different templates for different types of designs (e.g. Static Object or Animated Object).
The Templates page will get you started.
If you're new to 2-D and 3-D design, Lens Studio has a "Lens Studio Overview" video that you will probably find super helpful. Don't feel bad if you have to watch it a few times to get the gist of it (I think I'm on viewing number five right now). When you're ready to create your own 3-D character, your screen will consist of modular panels that will assist you in your creation.
You'll use the Studio Panels to create your Lens.
The Scene panel puts your 3-D object into space in order to let you visualize it. The Objects panel lists all of the objects making up your current scene (the above image shows multiple objects), and you can add or remove them as you see fit by using a simple drag-and-drop method with your files, and you can add more objects by using the Resources panel. To scale or edit other parameters for each object, you'll use the Inspector panel. The Preview panel on the far right will show you what your Lens looks like in real time as you make changes.
Once you've perfected your lens, you can pair your phone with Lens Studio by clicking the upper-right-hand corner where it says "Pair Your Device." A Snapcode will pop up, and then you can share that Snapcode using Snapchat on your device. After it's scanned, Snapchat will ask, "Pair with Lens Studio?" and you'll hit "Pair." The last step is to click "Push Lens To Device" from Lens Studio on your desktop, and then you'll be able to preview it in Snapchat on your device.
Pair with Lens Studio to preview your Lens on your device.
If you're happy with the result, then you can submit your Lens to Snapchat by clicking "Submit Lens" in the upper-left hand corner of Lens Studio. Initially, your lens will be "In Review," and then once your submission is accepted, your Lens will be marked "Live." Good news for the impatient: Lens Studio's website reports that Snapchat will work to make approved Lenses go live as quickly as possible. After your Lens is accepted by Snapchat, you can share it with your friends by sharing the Snapcode for your Lens, and then watch everyone share moments from their day using your original creation.
Share your original Lenses with friends using your Snapcode.
This new way to interact with Lenses is available to both individuals and businesses. For example, it will allow businesses to access AR advertising on Snapchat more easily due to the Lens Studio Partner program, where partner agencies create Lenses directly for advertisers, rather than solely going through Snapchat's creative team.
But if you're just in it for the cool one-of-kind Lenses that can be made only by you, then you can get some inspiration from creator examples like "Neon Boogie" by Brian Garcia. It's also a great inspiration if you wanna rock a monochromatic ensemble in Pantone's 2018 Color of the Year, Ultra Violet.
Now that you know how to create the coolest 3-D Snap Lenses yet, you can check off the rest of your holiday shopping list creating tailor-made Lenses for everyone on your list. Happy Snapping!
Check out the entire Gen Why series and other videos on Facebook and the Bustle app across Apple TV, Roku, and Amazon Fire TV.