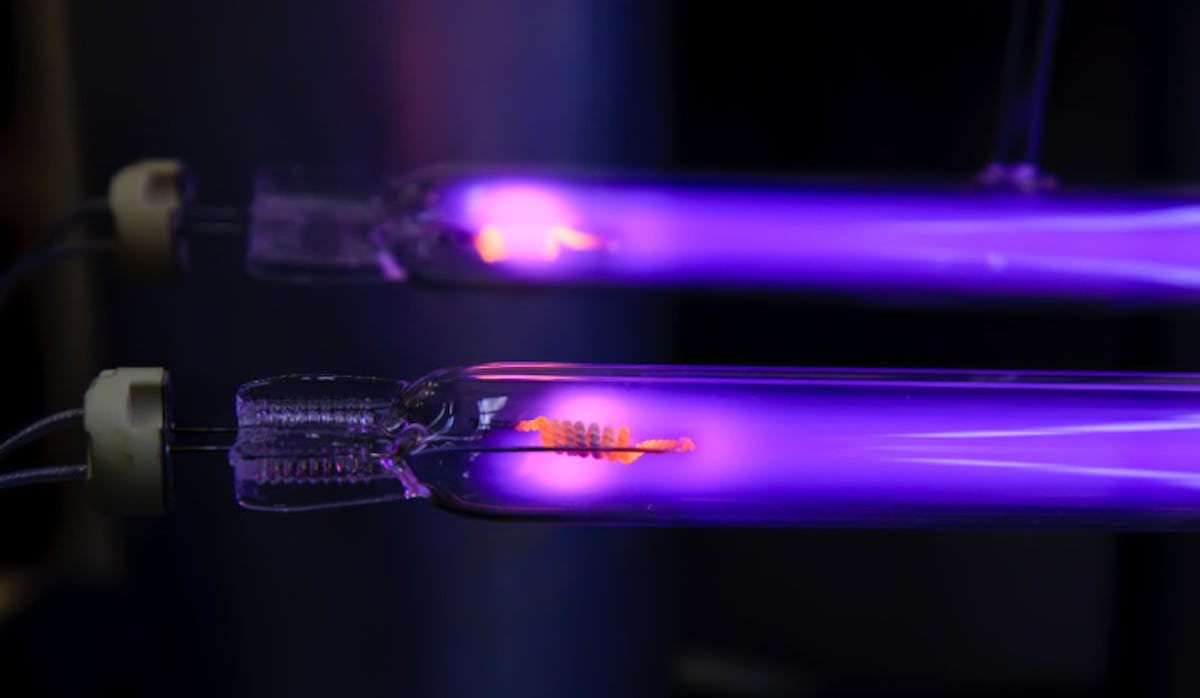 Pantone Just Announced The Hottest Color For 2018 & The Year Will Be So Lit
If you've been scrolling through Instagram at all today, you've probably noticed a certain purple hue — one that's quite literally lit — everywhere. So, what is Ultra Violet? The 2018 Pantone Color Of The Year is pretty much the highest honor a color can ever achieve or hope for, besides being worn by Rihanna. In other words, Ultra Violet is the hue that you're about to see overtake every single high fashion runway, home goods store, and beyond. And its purple reign (rain for all your Prince fans) over the beauty world has already begun.
If you're wondering what Pantone's color of the year competition entails, here's how the self-dubbed authority on color itself defines it on their website.
A symbolic color selection; a color snapshot of what we see taking place in our global culture that serves as an expression of a mood and an attitude. As individuals around the world become more fascinated with color and realize its ability to convey deep messages and meanings, designers and brands should feel empowered to use color to inspire and influence. The Color of the Year is one moment in time that provides strategic direction for the world of trend and design.
2017's color was a "fresh and zesty yellow-green shade" aptly called Greenery, which, according to Pantone, was meant to prompt consumers to take a break from the man-made and materialistic, and instead focus their energies on exploring the great outdoors. 2016 was graced with two colors of the year: Rose Quartz ( a dusty pink) and Serenity (a periwinkle blue). It was the first time they'd ever named a pair of colors, which was a nod to gender equality and fluidity. Pretty awesome, right?
After researching the above, I was wracking my head for what Ultra Violet might symbolize in regards to looking ahead toward 2018. Tech advancements? Metaphorical illumination and enlightenment? According to Pantone, Ultra Violet is "a dramatically provocative and thoughtful purple shade" that "communicates originality, ingenuity, and visionary thinking that points us toward the future," and "symbolizes experimentation and non-conformity, spurring individuals to imagine their unique mark on the world, and push boundaries through creative outlets."
So. into. it!
You'll want to get started on perfecting your Ultra Violet beauty looks for next year ASAP, so here are some of the best products in the shade that are currently on the market. I've no doubt that more will arise soon, seeing the color literally represents experimentation, creation, and creativity.
Blowing Up
This foldable blow dryer is perfect for any winter vacation and 2018 getaways you have planned. It's Ultra Violet case is sleek, small, and (clearly) stylish.
Lashing Out
One of my favorite beauty trends from the early aughts was pigmented mascara. This affordable purple version is calling to my 15 year-old self, and Prince would approve!
Nailed It
If you don't like to get too crazy colorful with your beauty looks, nail polish is an awesome way to partake in the color of the year. This deep hue is even ideal for wintery trends.
Hairy Situation
In college, I experimented with my hair color. A lot. I went from platinum to pastel pink to strawberry blonde, all within the scope of two years. But my favorite shade I ever tried was an icy purple. So naturally, Ultra Violet locks sounds very appealing. This pigment might need to find its way onto my Christmas list!
Eye Do
If you've got eyes, this shadow is about to make them pop.
Purple Kiss
While awesome on its own, the fact that this lipstick is 100 percent vegan makes it even more covetable.
Fine Lines
Opt for a purple eyeliner to partake in the Pantone color of the year in the most makeup artist-approved way.