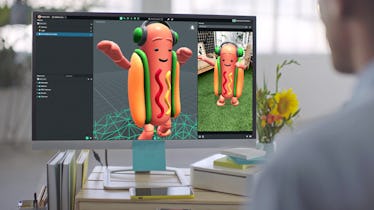 Snapchat's New App Lets You Make Your Own World Lenses, Like The Dancing Hot Dog
Snapchat
From the puppy face filter to face swap, Snapchat has created several fantastic features over the years. That being said, our forever favorite from 2017 was undoubtedly the Dancing Hot Dog World Lens. That little wiener danced his heart out, strutting in his tiny hot dog earmuffs across all of our Snapchat screens earlier this summer. And, for all the techies and graphic designers out there, Snapchat just came out with a desktop app that allows users to design characters of their own to make a unique World Lens. So, if you're confident in your tech and artistic abilities, you should probably be asking: What is Snapchat's Lens Studio? You could potentially animate the next adorable and viral Snapchat character.
On Dec. 14, Snapchat released Lens Studio, which is a super cool, high-tech, and free desktop app for Mac and Windows users alike. It gives students, artists, animating enthusiasts, and brands of all kinds the tools and opportunities to animate and share their own Snapchat augmented reality (AR) experiences. These AR experiences (aka World Lenses) are the 2-D and 3-D objects that have the ability interact with their surrounding environment, just like the dancing hot dog. As you probably remember, he was able to dance on tables, your coworker's face, and on the foot of your bed just by turning your Snapchat to the rear-facing camera.
A Snapchat spokesperson tells Elite Daily the inspiration behind their new desktop app:
We think it's a great tool for students, creatives and developers alike to bring their 2-D and 3-D animations to life, and share their experiences with Snapchatters around the world.
Lens Studio also provides app users with several kinds of templates and instructional guides to get them started on coding and designing their own innovations. These AR experiences can be shared on Snapchat by the creators themselves. And if the creator wants to, they can let other Snapchat users send out their creations by sending out unique codes and Lens Studio-generated links.
For any brands interested in some Snapchat AR Advertising, Lens Studio has also created a Lens Studio Partner Program, which is special for brands and advertising companies. The program makes AR advertising more attainable and affordable for a wide variety of marketing budgets and agendas.
Although we honestly don't remember a time when Snapchat filters didn't exist, our source from Snapchat tells Elite Daily that since creating Snapchat filters over two years ago in 2015, they've created over 3,000 varieties. Millions of people started engaging with AR for fun, and about one third of daily users were using Lenses for almost three minutes everyday. This led to the inspiration behind Lens Studio, because it gives other creative people the ability to design and share AR experiences of their own.
The app will also be holding fun and challenging design competitions for Lens Studio users under their website's "Challenges" tab. Coming up is the January Jumpstart competition, where participants will be expected to create a New Years-themed Lens. The winner will receive a Lens Studio swag bag — which includes an iPad Pro — and their creation could even get featured in the Lens carousel on Snapchat for millions of Snapchat users to use worldwide. Participants can start sending in submissions between Dec. 15, 2017 and Jan. 18, 2018. If we were the least bit creative and tech-oriented, we would totally submit, but it's all up to you creative techies out there. Make us proud.
So, if you're ready to showcase your artistic and tech abilities, make sure you download Lens Studio onto your Mac or Windows desktop. Your design could actually be the next dancing hot dog (hopefully he comes back soon).
Check out the entire Gen Why series and other videos on Facebook and the Bustle app across Apple TV, Roku, and Amazon Fire TV.