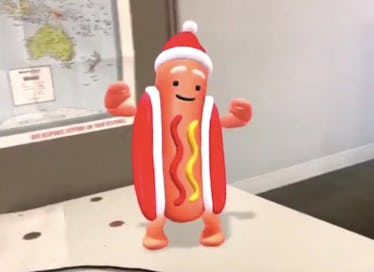 The Dancing Hot Dog Is Back On Snapchat For Christmas & People Are So, So Happy
Despite all of 2017's utter chaos, there have been a number of goldmines that emerged from social media over the past year. But rising above even the most esteemed memes and trends — such as Salt Bae and the Distracted Boyfriend — is the dancing hot dog, a beloved Snapchat filter featuring a tiny hot dog who danced and DJ'ed as if nobody was watching. Although his disappearance from the app was devastating, Snapchat users are applauding his glorious return in full Santa attire. So if you really want your morning made, checkout these tweets about Snapchat's Christmas dancing hot dog.
It was an incredibly sad day when our favorite dancing hot dog was temporarily removed from Snapchat. With all of the other craziness going on in the world, social media users loved that little dancing wiener, not only for his innocence and naivety, but also for his persistence and ever-lasting loyalty. Whether your dancing hot dog Snap of choice was strategically placing him on the dance floor at a bar, in your bedroom at the foot of your bed, or outside your window at work, he was a gosh-darn Snapchat staple — and seeing him go was one of the hardest things Snapchat has thus far endured in 2017.
Snapchat aficionados and dancing hot dog fans alike had been anxiously awaiting his return... until he finally came back this week. The dancing hot dog has officially made his grand return on Snapchat, however, with an entirely new shtick. Although he has traded in his prized DJ gear for a festive-AF Santa suit, Snapchat users are graciously welcoming his return after way too many months. Let's just say people are beyond hyped that our beloved enthused wiener is back in action with a little extra holiday spirit and tons of sweet new breakdancing moves.
According to @TimMarcin, his return is a Christmas miracle. Quite honestly, we don't disagree with him.
Some Snapchat users are already bringing him back to their humble abodes, and having him dance next cheerily to their Christmas trees.
Others just really need the world to know that he's officially back in action, and we hope everyone has already gotten the message.
But some people just still haven't quite wrapped their head around the existence of an augmented reality musically-inclined hot dog. I get it, it's a little out of the norm. Quite frankly, I just don't really care to question it.
Also, let's just point out that this girl actually predicted the freaking future?! Massive shoutout to @gaylordf0cker, because she might actually be a real-life psychic. I mean, she predicted this about a week before it happened. Coincidence? I think not!
Even that gosh-darn dancing hot dog himself has announced his glorious return on Twitter, and he seems just excited as we are. Shout it to the streets, because he's ready, he has his suit on, and he's about to dance the freaking holiday season into oblivion.
In addition to the Christmas dancing hot dog, earlier this month, Snapchat opened a desktop app called Lens Studio. The program essentially allows other innovative students and like-minded professionals to create their own versions of augmented reality (AR), just like the dancing hot dog, using a series of guides and tools provided by the app. Innovators can choose to send their creations to others for sharing, or they can keep them as their own. Between their Lens Studio program — as well as the Christmas dancing hot dog — Snapchat users are pretty pleased with the app right about now.
Check out the entire Gen Why series and other videos on Facebook and the Bustle app across Apple TV, Roku, and Amazon Fire TV.