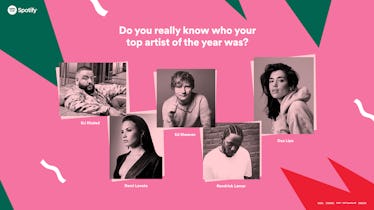 Spotify's 2017 Wrapped Is A Throwback To Everything We Went Through This Year
Spotify
There are only 26 days left in the dumpster fire that was 2017, and I have been in deep denial. Yet when Spotify announced its 2017 Wrapped function, which allows you to look back on your year in music, I waved the white flag and decided to accept time's cruel and unrelenting march forward. If you're like me and finally ready to let this year die, you may be wondering how to get your 2017 Wrapped playlist on Spotify.
Want a playlist with your top 100 songs? How about a playlist with all the ones that got away — the tracks you probably would have loved, but somehow overlooked? Lucky for you, it's super easy to find out everything from your top genre, artists, and songs to the number of minutes you spent listening to Spotify.
There are a few ways to do it: On your computer, you can go to 2017wrapped.com and sign in with your Spotify account. The streaming service will do the rest. (This, however, may not work for all browsers. If you try this on Chrome, for instance, you'll might get the following message: "This website is optimized for certain devices and browsers. Sorry about that." It runs just fine on Safari and Firefox, though.)
If you're on your phone, you can use the aforementioned instructions, or you can open the app, go to Browse, and click on the "2017 Wrapped" icon under Genres & Moods.
And voilà, you'll have access to playlists and all the information about your listening habits that you never knew you needed.
Spotify also decided to include goals for 2018, including a three-question quiz called "Be Self-Aware" which tests whether or not you pay attention to your listening habits.
And, according to a press release, Spotify also made its "Ones That Got Away" playlist by identifying the site's "tastemakers" — those who "tend to discover music early and often." Using the hard labor of these super cool people, "Spotify identified a pool of songs that would closely align with other users' taste. The result is like a personalized mixtape of previously undiscovered songs, made just for you, by a group of highly knowledgeable music fans."
People are, of course, stoked about this feature. And why wouldn't they be? After all, you're just a few clicks away from finding out whether you're more of an indie rock person, or if your secret Sia habit tipped you in favor of pop.
For instance, I listened to 15,517 minutes of music, which is just shy of 11 consecutive days of modern rock, indie, and generally weepy atmospheric art rock. I was embarrassed to discover that, though my most played song is "Ojos Del Sol" by Y La Bamba, a Jason Mraz song is my eighth most played track. But I also have several RuPaul tracks and a whole lot of Animal Collective on the list, so at least Mraz was just an anomaly — a weakness brought on by summer, my 28th birthday, and my own mortality.
Humans. We contain multitudes.
Anyways, get in on this, because it's really fun.
And! You can listen to your friends' Wrapped playlists. So if you have ~cool friends~ you'll have a buuuunch of great music at your fingertips. (Or, if your friends are kinda lame, you have a bunch of new material with which to roast them.)
Of course, this is music we're talking about here, so there have been some upturned noses.
But take it from a Spotify subscriber: It's really cool — and slightly less embarrassing than Spotify's time capsule playlist, which shaded me so hard, I thought it was night. So go on and get your wrap on.