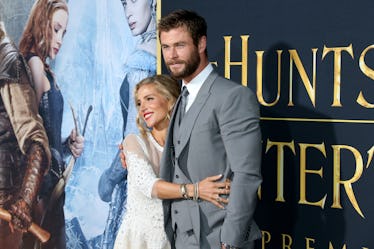 Chris Hemsworth Gets Real About Life With His Wife: "She's Given Up More Than I Have"
Frederick M. Brown/Getty Images Entertainment/Getty Images
Chris Hemsworth is definitely one of my favorite people to stare at. I mean, watch in movies. Have you seen Thor? *Cough, cough.* He has situated himself as one of the best people named Chris in Hollywood and has Elsa Pataky to thank. Who is Elsa Pataky? She is Chris Hemsworth's wife of six years and mother to his three children. As it turns out, she has played a huge role in his success as an actor and a human being.
Starring in Thor in 2011 is what really put Hemsworth in the spotlight (and on posters in many bedrooms around the world). While his career was booming, he was not a fan of the lifestyle that fame brought. After explaining to GQ how "suffocating" it was living in Hollywood — Hemsworth and Pataky decided to make a change. The actor said,
You stop becoming a person. You have nothing to draw from because you're living in this world of pretend on and off the screen.
Hemsworth, Pataky, and their three kids packed up out of Malibu and relocated to Byron Bay in Australia. However, with the rise of his acting career came some relationship challenges.
Between starring in (to name a few) The Avengers, Snow White And The Huntsman, and Ghostbusters — Hemsworth was definitely missing at home.
My wife and I fell in love, had kids, didn't really see each other for a few years, then fell back in love.
Hemsworth continued to say that he recognizes the sacrifices his wife has made.
In terms of work, she's certainly given up more than I have. She'd like me to step back and be at home with the kids more and, of course, I want that, too. But I feel like I'm at this crucial point in my career — I've just got to set up for longevity or I'll slip off.
While Hemsworth's dedication to his career is impressive, his devotion to his family is what keeps him grateful.
Once you have children, every instinct and every moment of your time is consumed by that. You've got nothing for each other, so make sure you have date night even if it's once in a blue moon, because most of the time you're just too tired and you'd actually prefer sleeping ... There's no shortage of how much I tell her I love her. But I guess there's no detail in it, why or how.
Why or how — I would be floored if Chris Hemsworth loved me... even just a little. Hemsworth admitted he does work to be a more attentive husband. Swoon.
It's funny, I can be so attentive and listen to people I hardly know, then you get home and you're like, 'What was that?' The 'Yeah, no, that sounds good.' Why do we do that? But you've got to switch off at some point, you know?
I feel you, Chris. TBH, your wife sounds like the best and I would like to take her for a mani and pedi.
As far as what we can look forward to from Hemsworth, Thor: Ragnarok will be in theaters Nov. 3. Director Taika Waititi brought some changes to what we typically see from the Thor movies, and Hemsworth is here for it.
There was so much improvisation; that's very much in his style and my vibe. That's the style of humor I love and that set the tone for the whole movie ... We had more fun than we should've been allowed to have in that kind of movie.
That sounds amazing, and I can't wait to see it. Chris Hemsworth seems like a really down to earth guy with an adorable family. Wishing them all the happiness and good looks in the world — oh wait, I think they have (at least) half of that already.
Check out the entire Gen Why series and other videos on Facebook and the Bustle app across Apple TV, Roku, and Amazon Fire TV.