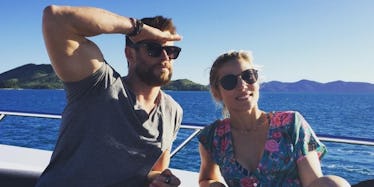 Chris Hemsworth Jokes About 'Looking For A New Wife' In Epic Instagram
Instagram
SHUT IT DOWN.
Change out of your slutty hammer costume. Dump your Hi-C Ecto Cooler and vodka cocktails down the drain. Blow out the nude wax candle you hand-crafted to look like Chris Hemsworth's torso.
SHUT.
IT.
DOWN.
There's no use trying to seduce this hot Australian loaf because the divorce rumors are as fake as Chris' "Thor" wig.
Despite Aussie site Woman's Day dubbing the actor and his wife, Elsa Pataky, "Hollywood's Next Big Split" over the weekend, Chris confirmed in an Instagram post he and the mother of his three children are still very much together.
Nothing says "deeply entrenched in the sacred traditions of marriage" like date night on a boat to ~escape all the lies~.
It's probably for the best these two gleaming beams of sunshine are happily committed to one another.
None of us would know what to do with our damn selves if THIS was back on the market.
Perhaps our children will have a better chance at snagging a Hemsworth.
I mean, I don't have any children yet, but when I do, I'll tell them, "Go on, child, snag a little Hemsworth."
Besides, Chris has a friend for us, remember?
Ugh, I know. He's had some rough press this year, but he's still a babe.
Don't pretend you're too good for Taylor Swift's gently-used men. None of us are.
Besides, Hiddle-pals like Benedict Cumberbatch are working tirelessly to erase Hiddleswift from the public's recent memory. By the time one of us ends up commiddlestoning our lives to Tom in holy matrimiddleston, no one will even remember his bizarro summer fling.
The only thing that could dash these dreams, of course, is if a certain flaxen-haired pop diva (STILL TALKING ABOUT TAYLOR SWIFT, IN CASE MY SUBTLETY WAS TOO LOW-KEY FOR YOU) records a banger about her and Tom's whirlwind love fest.
But, honestly, what are the odds?
Citations: Chris Hemsworth Jokes He's "Looking For A New Wife" After Split Rumors Surface (Refinery 29)