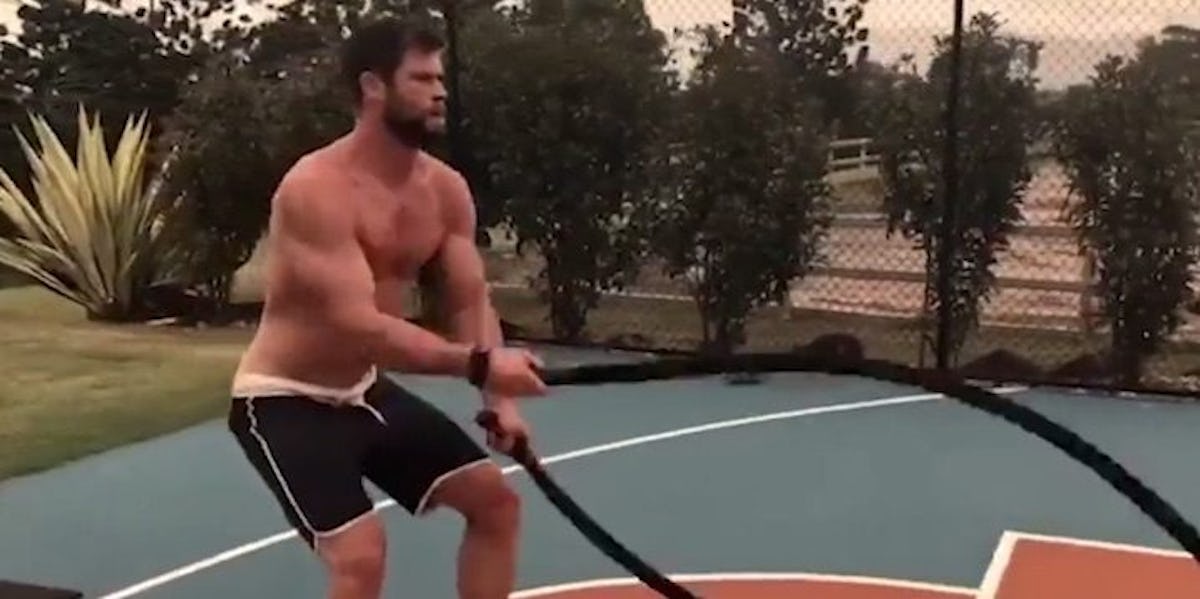 Chris Hemsworth's Sweaty Workout Video Will Make Your Monday A Little Better
Instagram
Oh sweet Christ. Here is an Instagram video of Chris Hemsworth working out.
Be warned, you will want to watch this video sitting down. It will turn your knees into jelly and your palms into sweaty faucets.
It's 33 seconds of Chris Hemsworth sweating while flexing his muscles on workout equipment. As a society, I don't know what we did to deserve this but it's best not to question the gods. Never look a gift Hemsworth in the mouth.
Enjoy.
The video was originally posted to Hemsworth's Instagram account with the caption,
Gettin it done with the worlds best trainer @zocobodypro. For the best training advice, nutrition advice of just how to be a flat out legend check out his website www.zocobodypro.com
That "world's best trainer" is named Luke Zocchi. He's the guy who worked with Chris and Cate Blanchett on the set of the INSANELY CONTROVERSIAL "Thor: Ragnarok."
Controversial because Marvel decided to pull this crap, by the way.
YUP, THAT IS THOR WITH SHORT HAIR AND I ASSUME WHOEVER IS RESPONSIBLE FOR MAKING THIS CALL WILL HAVE TO ANSWER FOR THEIR CRIMES IN FRONT OF A CONGRESSIONAL HEARING BECAUSE THIS IS AN ACT OF WAR AGAINST SOCIETY.
The rest of the cast looks pretty cool, though.
Entertainment Weekly posted some early shots from the set of the film, and Cate Blanchett is actually terrifying, a phrase I never in a million years thought I would be saying.
Jeff Goldblum, on the other hand, looks like he showed up to a party and realized he was the only one who stayed with the "fabulous mummy" theme they agreed on in the WhatsApp group.
Chris, however, is still bonkers hot even though Marvel made him shave his locks off.
He also may be single. *the sound of 3 billion ovaries exploding echoes throughout the world*
Anyway, here is one more pic for the road.
TLDR: Never look a gift Hemsworth in the mouth.
Citations: Chris Hemsworth goes full beast mode in intense workout video (Mashable)