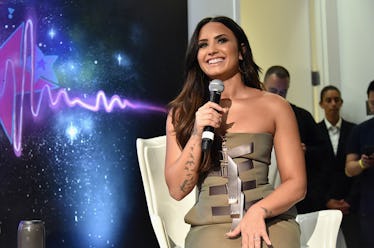 Demi Lovato Reportedly Working On "Dream Collaboration" & Twitter Has Some Guesses
Mike Coppola/Getty Images Entertainment/Getty Images
Honestly, Demi Lovato has become one of my favorite celebrities. Her music is bangin', she's tough as hell, and seems like an all-around amazing person. She keeps it very real with her fans, and always gives hints about upcoming projects that we lose our minds over. A recent tweet has all of us scratching our heads wondering, "Who is Demi Lovato collaborating with?"
Lovato's newest album Tell Me You Love Me dropped on Sept. 29 and has received tons of praise from fans and Lovato's peers. Compared to Lovato's previous albums, it's a lot more soulful. You can tell she really poured her heart into this body of work and *spoiler* it's amazing. While people have been buzzing about all the new music, Lovato is apparently still busy working in the recording studio.
The singer tweeted on Oct. 18 that she was working on a new "dream collaboration." Although the "Sorry Not Sorry" songstress hasn't fully dished on who it's with, fans on Twitter have a lot of guesses. As you probably assumed, a lot of the suggestions were expected, but some were very surprising (and I was kind of feeling all of them).
The full tweet from Lovato said,
Recording a DREAM COLLABORATION today!!!! dreams DO come true!!!!!!!!
The tweet was accompanied by many shocked and crying emojis. Fans are already all for this mysterious collab. Obviously, we fully trust Lovato and know she's probably busy creating another song we're going to be completely obsessed with.
Some of the popular guesses included Ariana Grande and Selena Gomez. These seem a little too obvious, but I'm not mad about it.
Also, thank you to the person who brought this GIF back into my life.
Rihanna is another artist that fans are pushing hard for. HOW AMAZING WOULD THIS BE? I'm literally tearing up over this idea.
Other popular guesses included Kelly Clarkson, Eminem, and Christina Aguilera. OKURRR.
Overall, some fans can't even handle the excitement and anticipation.
Ugh, this is just so exciting. Lovato has been making amazing music and I can't wait to hear more. If you're wondering when Lovato will start touring, the answer is very soon. Although she hasn't officially announced her tour yet, you better believe it's coming.
While at an album release event in NYC, Lovato schmoozed at a private meet and greet with fans and told them "You can expect a tour next year for sure." Oh, we're so ready. I think Lovato is ready to tour her more personal music, as well.
In a recent interview with Noisey, Lovato dished about how she was ready to move into some new territory after touring for her 2015 album Confident, explaining:
When I went on tour and I sang all pop stuff, it just wasn't fun for me. It wasn't soulful; I wasn't getting into the songs. It was just kind of going through the motions. And when I came off tour, I was like, 'You know what, I want to write music that's going to be fun for me to sing every night.'
This tour is definitely going to be unforgettable. Lovato dropped more hints about the tour on Sept. 20. She tweeted about new merch and told fans they can get "early tour ticket access" when they preorder. The tweet said,
New merch AND don't forget you'll get early tour ticket access too if you pre-order here.
Those purchasing the album or merch on the site receive a "Ticket Access Code," which is "good for the opportunity to purchase up to two tickets before general on-sale. Please note that tickets are available on a first-come, first-served basis." So, this obviously means a tour must be in the works.
CANNOT. CONTAIN. EXCITEMENT. Whatever Lovato has been doing this past year, I hope she keeps on doing it. It's amazing to see her in such a great place, personally and professionally. Now... how about that collab?
Check out the entire Gen Why series and other videos on Facebook and the Bustle app across Apple TV, Roku, and Amazon Fire TV.