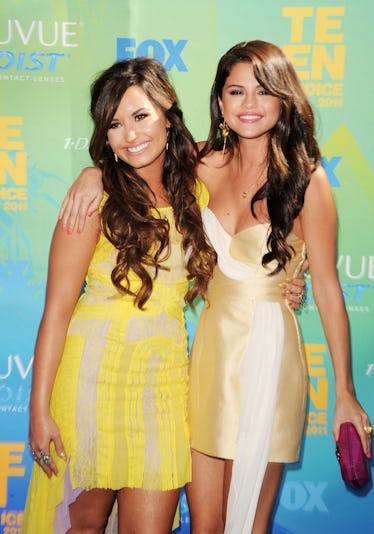 Selena Gomez Wrote The Sweetest Message For Demi Lovato About Her Documentary
Jason Merritt/TERM/Getty Images Entertainment/Getty Images
Demi Lovato's super honest YouTube documentary Simply Complicated was well received by fans, who praised the singer for this look at some very personal moments in her life, including drug addiction, rehab, and an eating disorder. One famous friend also piled on praise for Lovato and fans are freaking out. Just a little bit. Former bestie Selena Gomez's message to Demi Lovato on Instagram was beyond sweet. Despite their ups and downs in the past, these two have proven time and again that they always have each other's backs.
Fans caught a glimpse of Gomez's comment on Lovato's Instagram post about the documentary. In response to Lovato's post: "Proud to present... #SimplyComplicated. Watch the full documentary now on @YouTube!!," Gomez wrote: "This was beautiful. I'm so happy for you. You always continue to [be] bold and real. I wish more people were like you."
She added: "Love you."
So many feels. But wait... there's more!
Lovato responded: "@selenagomez thank you so much, this means the world to me and more. Love you too." You're crying. I'm not crying. Hell, we're all crying. Pass the tissues, please, because this is a moment.
Though Lovato and Gomez were BFFs back in the day, they had a falling out that seemed to indicate they had gone their separate ways, but over time, the old scars healed and they rebuilt their friendship again. Was it the same as the old days? Probably not, but it was reassuring for fans to see that these two, who shared so much history and grew up together in the spotlight, still adored each other.
In 2013, Lovato told MTV that she and Gomez had "been through a lot together," adding, "we've had periods of times we here we grew apart and we just didn't really talk."
At that time, she said this touching comment about Gomez:
Now we are in a place where I think we realized that life is so short and that when you have people in your life that love you so much then, you should just always be around them. She's going to be a big sister, and I want to be around for that. Everything about her, she has a great soul, she's talented, she's beautiful, and she will always be really, really close to my heart.
Given that, however, things got shaky again in 2014, when Lovato unfollowed Gomez on Instagram and Twitter, telling Watch What Happens Live host Andy Cohen: "I think it's just one of those things where people change and people grow apart."
In 2015, the two appeared to be on good terms yet again (forever this time, OK guys?), when Gomez tweeted: "IM so grateful you were born," and Lovato tweeted back: "I'm so glad you were born too... :P#forever #nomatterwhat."
Later that year, Gomez gushed about Lovato, telling ET: "I love her. She's like family at this point."
Over the summer of 2017, the pals praised each other on social media, with Lovato tweeting: "@selenagomez Loving your new song Fetish, we've come a long way since our Barney days" and Gomez responding: "Yes we have — just listening to Sorry Not Sorry! You slay as always. So happy for you!"
And when Gomez announced that she had a kidney transplant, Lovato told People: "I think that she is a very strong woman. I'm very happy and proud of her."
This latest message from Gomez to Lovato about the Simply Complicated documentary has fans freaking out once again, especially since the two are following each other on social media. All is right in the world again.
One fan summarized it oh so well, tweeting: "so demi and selena, AGAIN, follow each other on instagram and i am an emotional wreck, 2013 all over again."
This is a pretty accurate reaction:
I think it's time these two had a proper hangout again and if they could share it on Instagram or Snapchat, that would be great. Thanks!
Check out the entire Gen Why series and other videos on Facebook and the Bustle app across Apple TV, Roku, and Amazon Fire TV.