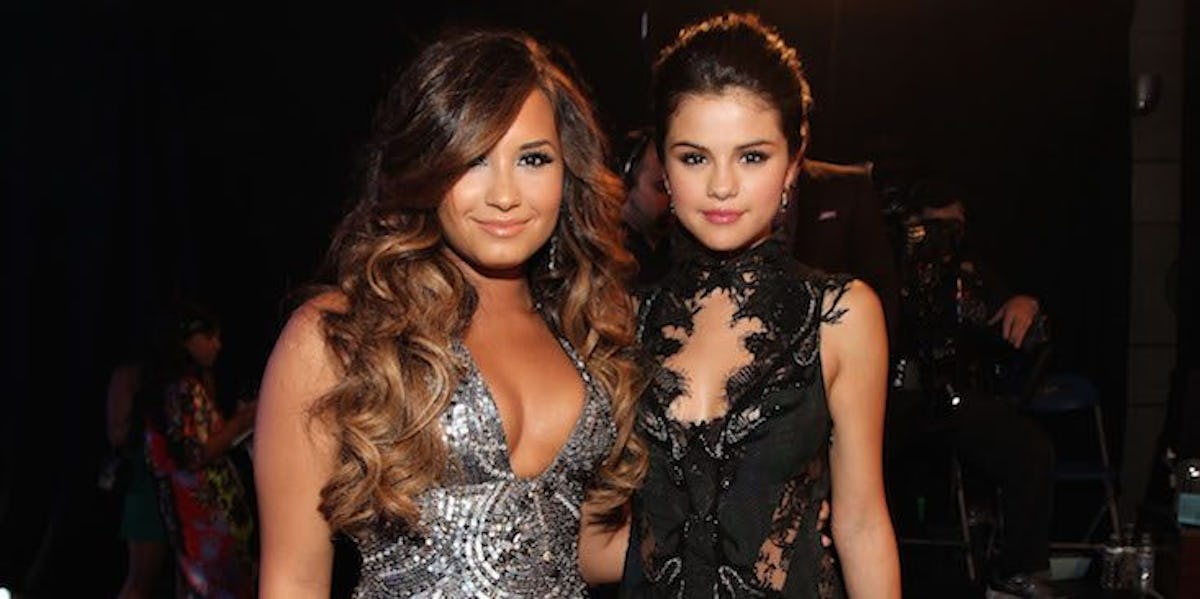 Demi Lovato & Selena Gomez Are Still Friends, In Case You Were Wondering
Christopher Polk/Getty Images
Demi Lovato and Selena Gomez have had a long history together, dating back to when they were child actors on Barney & Friends. Over the years, they went from the best of friends, to a shattered friendship, to finally getting back on good terms. But are Demi Lovato and Selena Gomez still friends?
They've definitely faced some ups and downs on the rollercoaster of their friendship, but thankfully they reconciled and are still friends. Given their bumpy past, however, some fans wonder if their relationship will ever be the same as those BFF days.
While they still have each other's backs, things are just a little different than they used to be. Every once in awhile they will tweet a message of support or praise one another in an interview. They're still in each others' lives but in a different way now that they've ridden out the rocky parts and matured into adults.
Fans are always thrilled when Lovato mentions Gomez or vice versa, reconfirming from time to time that they are still friends.
With the release of Lovato's new album, Tell Me You Love Me, on Sept. 29, one song that's raised a few eyebrows is "Ruin The Friendship," as some have speculated it might be about Lovato and Gomez's past. I'm sure there will be a more in-depth analysis once the lyrics are available, but there have already been some theories circulating.
Naturally, the song title dredged up the time that Lovato was asked about Gomez in 2010 and said, "Ask Taylor." At the time, Gomez was hanging out with Taylor Swift and Lovato was clearly feeling snubbed.
It certainly appeared there was a rift, as Lovato told Girls Life that year: "We're both busy, and I wish the best for her. True friends don't let their friends or family be mean to you. If you can't trust somebody, you can't be friends with them."
Lovato went to rehab shortly thereafter, but noted after she finished treatment that Gomez "called me crying when I was in there and was just so worried," adding, "I was like, 'Look, I should be the one crying, it's all good!' But she was so worried and ever since then we've gotten closer."
They appeared to face another falling out when Gomez was dating Justin Bieber and there was a bit of drama there, but did show support for one another's songs "Come and Get It" and "Heart Attack."
In 2013, Lovato spoke about Gomez to MTV, noting: "We've been through a lot together, we've had periods of times we here we grew apart and we just didn't really talk." She added:
Now we are in a place where I think we realized that life is so short and that when you have people in your life that love you so much then, you should just always be around them. She's going to be a big sister, and I want to be around for that. Everything about her, she has a great soul, she's talented, she's beautiful, and she will always be really, really close to my heart.
All good then? Well... things took another turn when Lovato unfollowed Gomez on Twitter and Instagram in 2014. Remember when Lovato tweeted that whole "swimming away from your bullsh*t" thing and we all were collectively like, "huh??"
When Lovato was asked about Gomez that year on Watch What Happens Live, it sounded like things were officially over for the two: "I think it's just one of those things where people change and people grow apart."
Hearts broke everywhere. Until...
In 2015, Lovato and Gomez followed each other again on social media and Gomez gushed on her pal's birthday: "IM so grateful you were born," with Lovato tweeting back: "I'm so glad you were born too... :P #forever #nomatterwhat."
Later that year, Lovato posted a pic of the two together, captioning it: "Look at how #coolforthesummer we are. Friends for years, #sameoldlove."
When asked about Lovato in an interview, Gomez told ET: "We went to a dinner, I think it was two weeks ago. We were at the dinner, we were talking about her record, my record, just kind of catching up. I love her. She's like family at this point."
In 2017, the lovefest continued, as the two tweeted to each other about their songs, with Lovato writing: "@selenagomez Loving your new song Fetish, we've come a long way since our Barney days" and Gomez tweeting back: "Yes we have - just listening to Sorry Not Sorry! You slay as always. So happy for you!"
It seems like they are on solid ground again and fingers are crossed that they stay that way. When Lovato was asked about Gomez's recent kidney transplant, the singer had nothing but love and support for her longtime friend, telling People: "I think that she is a very strong woman. I'm very happy and proud of her."
Check out the entire Gen Why series and other videos on Facebook and the Bustle app across Apple TV, Roku, and Amazon Fire TV.