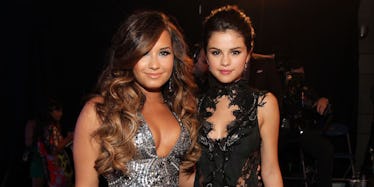 Move Over Taylor Swift, People Want Demi Lovato And Selena Gomez To Be BFF Again
Photo by Christopher Polk/Getty Images
Move over Taylor Swift, Instagram has spoken and they want Demi Lovato and Selena Gomez to reunite again.
After posting a picture using some of Selena Gomez's lyrics as a caption, people started losing their minds over the idea of a reunion.
The caption reads, "Kill em with kindness" which is the name of one of Gomez's most popular songs. Coincidence, or is this Demi Lovato asking for a Delena reunion? Hard to tell, but one thing is for certain: The fans want it!
User @gemine140 said,
You both have too many memories together. You both might deny it but deep down you both know you still care for each other and miss each other as well. You both knew each other for tooo long, just like family
While fan, @musicfeatmagcon begged,
I WANT DELENA BACK
To everyone else posting about the need to see Delena together again, we're right there with you!
Demi and Selena have known each other since they were eight years old when they starred in Barney and Friends. In the video below, Selena, Demi, and a couple randos sing together while BJ appears to be drunk. Adorbs!
After that, Selena Gomez went on to star in Wizards of Waverly Place while the Disney Channel original movie, Camp Rock, turned Demi into an instant star. Even through the rise of fame, these two remained BFFs.
The two even sparked rumors that they may be more than just friends.
Sadly, in 2010, their friendship hit a low point. Selena joined Taylor Swift's squad and Demi was feeling the cold shoulder. When asked how Selena was doing, Demi responded with, "Ask Taylor." SAVAGE.
Since then, it seems the two have made amends. Reportedly, Selena reached out to Demi while she was seeking treatment for eating disorders and self-harm and rekindled their friendship.
The two have been to multiple award shows together since and are seemingly cool, but we want more!
Hopefully this post will lead to a lot more Delena time in the future!
Let loose and el-oh-el ... It's a simple fact, I've got your back.
I'm not crying, you are! Come back to us, Delena!