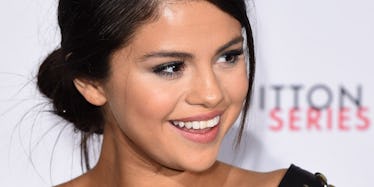 This Pic Of Selena In 'Wizards Of Waverly Place' Will Give You Major Nostalgia
REX/Shutterstock
While Selena Gomez is best known for putting out bop after bop now and performing around the world, nine years ago her day-to-day was a lot different.
For instance, she was a wizard.
If you can believe, nine years ago to the day Selena Gomez appeared as Alex Russo on the Disney Channel TV show "Wizards of Waverly Place" alongside David Henrie and Jake T. Austin, who played her brothers Justin and Max.
In honor of the anniversary of the show's premiere, Jake took to Instagram to give a special shoutout to his once TV family.
This is the ultimate throwback, and it's only Wednesday.
Check out Selena's hair! It looks so short compared to now.
*Wipes tear.*
They grow up so fast, these kids...
Obviously Jake has a lot of love for his Wizard family. When the Emmys aired this year, he posted another throwback picture from when the cast won.
Hopefully the picture and special shot-out from her on-screen little brother helps rally Selena Gomez.
She checked herself into a rehabilitation center to focus on her mental health.
The 24-year-old singer told People,
As many of you know, around a year ago I revealed that I have lupus, an illness that can affect people in different ways. I've discovered that anxiety, panic attacks and depression can be side effects of lupus, which can present their own challenges.
Gomez even underwent chemotherapy to help treat the chronic autoimmune disease. A source told Us Weekly,
Selena is dealing with lupus, but this break is to focus on her mental health. She can go to a very dark place.
Recently, Selena collaborated with producer Cashmere Cat on "Trust Nobody."
The song was released two weeks ago, and she is only featured on one verse with fellow artist Tory Lanez.
We're hoping Selena feels better soon.
Citations: Disney's Wizards of Waverly Place Celebrates 9-Year Anniversary (Teen Vogue)