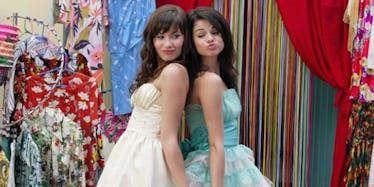 A Brief History Of Selena Gomez And Demi Lovato's Complicated Friendship
Disney Channel
Today is National Best Friends Day, but not everyone has a platonic soulmate to share his or her life with.
Those of us lucky enough to find "the one" early on know maintaining an intimate, lifelong best friendship is so much work Rihanna would need 3o refrains to communicate the magnitude of it.
For the duration of their careers, Demi Lovato and Selena Gomez have put. In. The. Work (x6).
You wanna talk ups and downs? Demi and Selena LAUGH in the face of your ups and downs. This is a pair of young women whose connection has faced years of major public strain only to emerge on the other side of it strong as a sisterly bond.
Their journey started when the future pop superstars met at an audition for "Barney & Friends."
Once both girls nabbed parts on the show, they created the kind of attachment only two children with full-time jobs can.
In the clip above, Selena is pumped for a brass band rave, and Demi struggles to learn how to wail on the trumpet, natch.
In late 2007, Demi scored "Camp Rock" and Selena began her run in "Wizards of Waverly Place," but the budding Disney stars stayed tight and even posted several vlogs together.
Shortly after the video above was posted, Miley Cyrus and her bestie Mandy lampooned the clip, starting a starlet feud.
Anyone who knows anything about friendship can tell you feuds are an amazing way to get even closer to your BFF through shared hatred and trauma bonding.
Demi and Selena pursued their independent careers for years until 2009, when the girls joined one another on screen again, for the first time since their "Barney" days, in the Disney Channel Original Movie "Princess Protection Program."
Demi played Rosalinda Montoya, a proper princess whose country is under attack. Selena played Carter Mason, Rosie's cool tomboy cousin, who hosts her royal relative at home in Louisiana and teaches her fun teen stuff, like how to burp. In return, Rosie teaches Carter how to open her heart and love herself and others.
The film won zero Oscars, and nobody understands why to this very day.
The biffles recorded a song together, "One and the Same," in conjunction with the film.
By 2009, their friendship was cemented by years of projects both personal and professional. It seemed like nothing could tear these two apart.
You just KNOW this is the calm before the whole damn storm.
A year later, Selena started spending time with one spaghetti-haired, country music beauty by the name of Taylor Swift.
Here, Selena bowls -- she BOWLS -- with someone other than Demi. She appears to do so with a clean conscience, despite the fact bowling is for biffs only.
The same year, a paparazzo asked Demi, "How's Selena?" to which the singer replied, "Ask Taylor."
GUTTED.
Later in 2010, after a lengthy struggle with an eating disorder, drugs and alcohol abuse, Demi decided to check into rehab at 18 years old.
Upon returning home from her time spent recovering, Demi reunited with her estranged other half on the red carpet at the 2011 Teen Choice Awards.
Oh, how they laughed!
The ladies joined forces again at the 2011 MTV Video Music Awards.
With her life back in order and Selena by her side, Demi went to work recording her self-titled studio album for its 2013 release.
While discussing the project with the Italian press, she named Selena as a dear friend who reached out during her darker days.
She shared,
Fortunately, I have family and friends around me that are very, very supportive of me and my recovery… Nick [Jonas] especially and Selena because Selena called me crying when I was in there and was just so worried… I was like 'Look, I should be the one crying. It's all good.'…Ever since then, we've gotten closer.
Come 2013, Demi had a sweet gig judging contestants on "The X Factor" and Selena made a guest appearance during one episode of the talent competition to perform her single "Slow Down."
Backstage, Selena shared a selfie of the two, calling it "the evidence of forever."
YAS. Finally! The girls had officially grown into mature adult women, survived the pitfalls of fame and found a place for each other in their hearts, "no matter what."
The divas stayed close through the beginning of 2014...
...but by summer, Demi unfollowed Selena on Twitter and Instagram.
Following her decision to unsubscribe from Selena's social media accounts, the "Stone Cold" singer allegedly posted a tweet featuring the meme above in an act of unbridled shade, but quickly deleted it.
In August 2014, Demi appeared on Bravo's "Watch What Happens: Live," and host Andy Cohen questioned her choice to unfollow Selena.
Demi told him,
People change and people grow apart.
Vague, Demetria, vague.
A year later, in August 2015, Demi was following Selena's accounts once again. The same month, Selena praised Demi's birth.
@ddlovato IM so grateful you were born. #nomatterwhat #forever #haveTHEbestbday — Selena Gomez (@selenagomez) August 21, 2015
Demi shared a pic in September 2015 of the pals out to dinner, hashtagging her single "Cool for the Summer" and Selena's single "Same Old Love."
Nothing says "our wounds are healed" like cross-promotion.
Selena then told ET, "I love [Demi]. She's like family at this point."
In Feb 2016, when Kesha was fighting to be released from her contract with Sony to avoid working with her alleged abuser, Dr. Luke, Demi lashed out at Selena's pal Taylor once again.
The "New Romantics" singer reportedly donated $250,000 to Kesha, whose legal fees were likely running high after multiple court appearances, but Demi recommended Taylor find a more hands-on way to help.
At the time, a source told Hollywood Life,
Selena isn't about to take sides publicly, but she supports Taylor 100%. She thinks Taylor's $250,000 donation to Kesha speaks for itself… Selena isn't quite sure why Demi felt a need to make her opinions public, rather than contact Taylor privately. Selena has no plans voicing her thoughts about this matter publicly. That said, she thinks Taylor is s rockstar for being such a loyal friend to Kesha.
These days, both women are going to spend the summer touring with each other's exes, aka former Jonas Brothers members Nick and Joe.
Selena has already hit the road for her Revival Tour, featuring Joe Jonas' band DNCE.
Demi is gearing up for the Future Now Tour she'll be co-headlining with a now-solo Nick Jonas.
These two have hit some ruuuuuttttsssssssss over the past two decades, y'all, but there's something about the way Selena hashtags #forever that reassures us all of the enduring quality of a friendship like this one.
No.
Matter.
What.