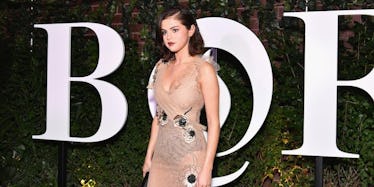 Selena Gomez Got A Kidney Transplant And Fans Are So, So Supportive
Dia Dipasupil/Getty Images for The Business of Fashion
News of Selena Gomez's kidney transplant was surprising to everyone, but she's had such an outpouring of love since revealing the details of her surgery. The actress/singer's Instagram post about the transplant and her amazing kidney donor prompted her fans to take to Twitter. The tweets about Selena Gomez's kidney transplant ranged from notes of surprise to words of encouragement, healing, and strength.
Gomez wrote about the kidney transplant on her Instagram post, showing pics of her donor and surgery scar. She explained:
I'm very aware some of my fans had noticed I was laying low for part of the summer and questioning why I wasn't promoting my new music, which I was extremely proud of. So I found out I needed to get a kidney transplant due to my Lupus and was recovering. It was what I needed to do for my overall health.
She added:
I honestly look forward to sharing with you, soon my journey through these past several months as I have always wanted to do with you. Until then I want to publicly thank my family and incredible team of doctors for everything they have done for me prior to and post-surgery. And finally, there aren't words to describe how I can possibly thank my beautiful friend Francia Raisa. She gave me the ultimate gift and sacrifice by donating her kidney to me. I am incredibly blessed. I love you so much sis.
The hashtag #WeAreProudofYouSelena included a huge response, with one person tweeting: "A warrior, a fighter, a strong woman. You're truly a warrior and I'm always by your side. #WeAreProudOfYouSelena." Another fan shared: "Oh my. can't stop crying.. Now I'm pretty sure that Selena is the strongest girl ever!"
Still, others thanked her for being so open, with one fan tweeting: "Thank you for sharing your story with us. It means the world. We love you forever, Sel. #WeAreProudOfYouSelena."
And, of course, there was some major love for her donor, with one person tweeting: "She is so strong and I love her so much, I hope she heals soon. Big love to @therealfrancia for donating her kidney."
Others were quite shocked and surprised, with comments such as: "Selena had to get a kidney transplant, oh my gosh" and "Selena had a kidney transplant wow I'm crying."
And there were those fans who were in absolute awe of her strength, with tweets including: "When you realize Selena Gomez had a kidney transplant this summer and is STILL out there like an absolute girl boss."
Other fans were completely moved by Raisa's gift to Gomez, with one person tweeting: "I've been crying so much since I've read about Selena's kidney transplant. Francia is the most kindhearted person."
Another person added: "WOW Francia Raisa gave Selena Gomez a kidney and I just rly can't believe that the two most beautiful celebrities are connected like this."
Some marveled over the selflessness of Gomez's friend, with one Twitter user noting: "Where can I find a friend like Selena's that would be willing to donate a kidney for me I want that type of friend."
And look at all that Gomez has accomplished: "Selena released two songs, filmed two music videos, did photoshoots and more while going through a kidney transplant. I'm just- wow."
Others pointed to the star's strength, with one fan tweeting: "cant believe selena had to have a kidney transplant bc of her lupus my girl is so strong so glad she has someone like francia in her life."
So many fans commented that they were proud of Gomez, with one tweeting: "selena got a kidney transplant last summer oh god i am so happy she's okay now and she's so strong i'm really proud of her."
Selena has proven time and again that she's a strong, inspiring woman and an amazing role model. It's great to see that her fanbase always has her back.
Check out the entire Gen Why series and other videos on Facebook and the Bustle app across Apple TV, Roku, and Amazon Fire TV.