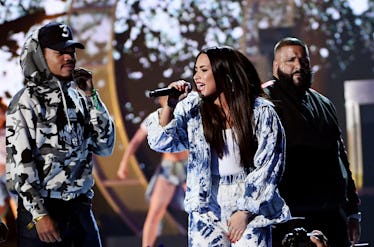 Demi Lovato Is On A Journey To "Be Free Of All Demons" In Her New Documentary
Kevin Winter/Getty Images Entertainment/Getty Images
Demi Lovato is often praised by fans for her direct honesty and transparency. She's open about the good, the bad, and everything in-between. Lovato is giving fans an even more intimate look into her life with a new documentary. Demi Lovato: Simply Complicated will follow Lovato's journey from her rise to fame through today. If you're wondering how to watch Demi Lovato: Simply Complicated, it's extremely easy.
Lovato's new documentary will be released on Tuesday, Oct. 17. You don't need to rush to a theater or hide the remote from your siblings — Demi Lovato: Simply Complicated is actually premiering on YouTube through Lovato's channel.
Lovato explains in the trailer, "I'm on a journey to discover a life with no demons." The two-minute teaser gives an interesting sneak peek into what fans can expect from the documentary. A nervous Lovato reveals in the beginning,
I actually had anxiety around this interview. I don't know what everyone's going to think. One thing I'll never stop doing is being honest... and that's the best I can do.
Footage of a very young Lovato singing on stage is mixed with her explosion into fame during her short time on Disney Channel leading into the beginning of pop stardom. During that period, Lovato came head-to-head with a lot of challenges — including mental health issues, addiction, and eating disorders. Lovato admitted,
I was not easy to work with ... I went on a bender like for two months where I was using daily.
While Lovato had her struggles, she is working her *ss off to come out on the other side. Through advocating, exercise, and self-love, Lovato is living a happier, healthier life. She warned,
When I'm comfortable in my own skin, I feel confident. When I feel confident, I feel sexy. When I feel sexy... watch out.
Many of Lovato's close family and friends are shown in the trailer. Even her longtime friend, Nick Jonas, makes an appearance. In the video, Jonas is setting up the controversial story about Lovato punching one of her back-up dancers in 2010 while she was part of the Jonas Tour. Although Jonas and Lovato are extremely close today, the back-up dancer incident caused the two to have a falling out.
Dealing with addiction and mental illness made this a dark time for Lovato. People reported that Jonas was "fuming." Lovato said in an interview with Billboard,
I distanced myself as I was getting involved with self-destructive things. After treatment, I had to have some time sober before I wasn't embarrassed to talk to him ... The first time we saw each other since that tour was my [2012 Los Angeles] concert at the Greek [Theater]. We caught up right before the show, then performed. It was an emotional reunion — I got one of my best friends back.
Lovato and Jonas are definitely back to being BFF goals. In August 2016, Demi Lovato and Nick Jonas officially kicked off their Future Now Tour. It started in Atlanta and swept through the entire country with millions of fans losing their sh*t almost nightly. If that doesn't say "we cool," I don't what does.
With special appearances and an inside look into Lovato's life, I'm sure fans are going to absolutely love Demi Lovato: Simply Complicated. Lovato is proof that if you're good to your fans, they will be amazing in return.
While getting over being sick, Lovato's voice cracked while singing "Stone Cold" during a performance at a Tell Me You Love Me release party with iHeartRadio in NYC. Her reaction on stage was amazing, though.
Lovato, real as always, remarks: "F*ck! I don't know what to do!" Fans rallied at the show and broke out into applause. Others supported the singer on social media. Let's be real, Lovato's voice is unmatched and the notes she hits are basically impossible for all of us.
Lovato replied by tweeting,
Even when I lose my voice on stage my fans know how to keep me from being down.. thank you my Lovatics I love you.
Needless to say — we love you, too, Demi. I seriously can't wait to watch Demi Lovato: Simply Complicated on YouTube. It's going to be simply amazing. Ah, see what I did there? LOL, sorry.
Check out the entire Gen Why series and other videos on Facebook and the Bustle app across Apple TV, Roku, and Amazon Fire TV.