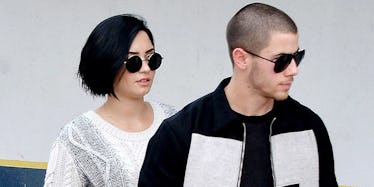 Did You Notice This One Thing Nick Jonas And Demi Lovato Have In Common?
REX/Shutterstock
Nick Jonas and Demi Lovato are seriously BFF goals.
The two singers have taken their friendship to new heights this past year while on tour. It sometimes feels like they're inseparable.
LET ME IN, YOU GUYS. I WANT TO BE A PART OF THIS FRIENDSHIP.
Nick and Demi have come a long way together since their "Camp Rock" days. They've basically been through everything together.
But there's one thing you probably didn't realize they have in common.
The duo was on "The Late Show with Stephen Colbert" when the revelation was made. Stephen pointed out Demi and Nick are both always in the shower.
Remember when Demi Lovato was bathing in her "Neon Lights" music video?
OR when Demi did her first nude photo shoot...in the shower?!
OR WHEN NICK JONAS WAS WEARING ONLY A TOWEL, DRINKING SOME WATER, GETTING READY TO WASH HIS BODY?!?
There's clearly a common theme here.
Stephen Colbert highlights several other examples, but those are probably my favorite. I guess it's safe to say Nick and Demi are big fans of the water.
Just keep swimming, you guys. I'm into it.
You can check out the full video above.