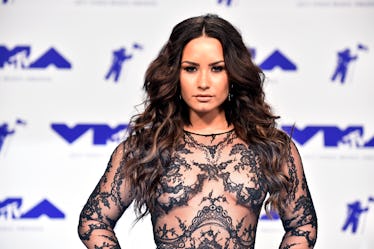 Demi Lovato's Voice Cracked During A Performance & Fans Totally Had Her Back – VIDEO
Frazer Harrison/Getty Images Entertainment/Getty Images
Demi Lovato's fans are fiercely loyal to the singer and they especially know how to lift her up even when things aren't perfect. Have you seen this video of Demi Lovato's voice cracking during a recent performance? Hey, it happens.
Check out Lovato singing "Stone Cold" during a performance at a Tell Me You Love Me release party with iHeartRadio in NYC. Her voice is sounding a little bit rough and as she attempts to hit the high notes, well, that's when things crack just a bit.
Her reaction is amazing though. Lovato, real, as always, remarks: "F*ck! I don't know what to do!"
Honestly, what can you do but carry on? You know the saying, "the show must go on" is real. But still, Lovato felt it worth a break to say "f*ck" before carrying on again beautifully, which was, naturally, met with cheers from her supportive audience. Then her little shrug at the end gives a bit of a "hey, what can you do?" vibe that's so cute.
In an interview with event host Elvis Duran, she explained the vocal fail, noting: "That's what we call not lip-syncing." She also noted that her voice was not "100 percent" because she's been sick.
Lovato was sure to pay back her fans with gratitude, taking to Twitter to share: "Even when I lose my voice on stage my fans know how to keep me from being down.. thank you my Lovatics I love you."
Z100 tweeted the most relatable comment: "Why does @ddlovato sound like a goddess when she's sick and we sound like GREMLINS?!" And that's her voice not at 100 percent! Amazing.
One fan summed it up perfectly, responding, "'Cause she's a queen." Yep.
Lovato is still getting over being sick, as she missed an appearance on TRL (for which pal Nick Jonas replaced her). Jonas explained Lovato's illness during the appearance, saying: "I think she's doing OK and recovering. I was happy to be able to jump down and come and hang out with all of you today."
Fans were totally in her corner after the voice wobble, with tweets wishing her well flooding in: "YOU DID GREAT WE LOVE YOU" and "get well soon, take your time."
Others commented about how great she sounded despite the vocal issues, with one fan noting: "Even with no voice you're still better than most. You were amazing!"
And, of course, there was just never ending support for the singer: "With or without voice we will always be with you. get well. I love you. #GetWellSoonDemi."
Another fan pointed out how Lovato still delivered, despite the voice crack: "‪#DemiLovato‪ performed yesterday and her voice cracked because she's sick. but hey I prefer that than an idol who doesn't even sing."
This morning, Lovato gifted her fans with the trailer for her documentary, Simply Complicated, coming to YouTube on Oct. 17. She tweeted: "Proud to share the trailer for ‪#SimplyComplicated with you guys!! Can't wait for you to watch on 10/17!"
The trailer opens with Lovato saying she "had anxiety around this interview" and "[didn't] know what everyone's going to think." She added, "One thing I'll never stop doing is being honest. And that's the best I can do."
In the trailer, Lovato talks about her quick rise to fame and some of the challenges along the way, as she explains, "I was not easy to work with."
In a recent interview with Rolling Stone, Lovato was asked, "You talk in the documentary about everything from cocaine addiction to an eating disorder. Is there anything you didn't want to address?"
Lovato explained that there wasn't much that was off limits:
To be honest, no. I was pretty open with the cameras. The only times I didn't want the cameras on me were when I was songwriting, because I didn't want to be distracted.
Hopefully, the singer will have a little downtime now to rest her voice — feel better soon!
Check out the entire Gen Why series and other videos on Facebook and the Bustle app across Apple TV, Roku, and Amazon FireTV.