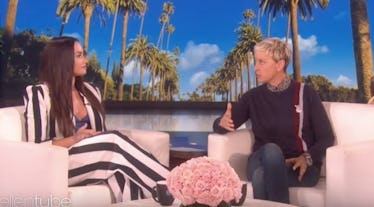 Ellen Asked Demi Lovato If "Ruin The Friendship" Is About Nick Jonas & We're Dying
Leave it to Ellen DeGeneres to ask celebrities what we all want to know. On today's show, Demi Lovato responded to whether "Ruin the Friendship" is about Nick Jonas. Thank you to DeGeneres for digging in and trying to get to the bottom of it.
When Lovato's new album, Tell Me You Love Me, was released, fans quickly zeroed in on the lyrics to "Ruin the Friendship" and some of the clues she gave as to who it's all about. Fans quickly put two and two together and landed on Jonas, with lyrics like:
Put down your cigar and pick me up / Play me your guitar, that song I love / Thirsty for your love / Fill up my cup / Your body's looking good tonight / I'm thinkin' we should cross the line / Let's ruin the friendship / What's taken us all this time?
During a sit-down on The Ellen DeGeneres Show, the talk show host got to the point, asking Lovato: "I'm told to ask these questions. I don't care, I don't. But supposedly there is a song about Nick Jonas in here and because you just claimed to be so honest, I feel like you should be honest with that answer."
Yeah. You didn't think it would be that easy, did you? Of course not. As with any singer's lyrics about other celebrities, they always remain tight-lipped about it, keeping fans wondering.
Lovato giggled, saying, "Well you don't care, so...," but DeGeneres insisted the audience does care. Naturally, the singer wasn't giving away anything, telling DeGeneres, "Something that I will always keep to myself is who I write my songs about."
Uh, huh. So, she didn't deny that "Ruin The Friendship" is all about Jonas. She didn't confirm it either.
DeGeneres was quick to respond that we all see right through Lovato's answer, saying, "I see, so it's probably about him. You're just best friends? You and Nick are friends?" Lovato answered, "Yeah." That's it, she's not telling us anything else.
Lovato recently dished to Vice about the inspiration for "Ruin the Friendship," explaining:
I was frustrated with a certain situation ... And I was like, 'You know what, I'm just going to write about it.' And so I did, and sent [the songs] to that person, and that was ... Interesting. Any time you send a song about the person, to the person — it's ballsy. It's like, 'Hey! Here's my feelings for you!' … They knew [about my feelings], but neither of us had acknowledged [them] before. And then it turned out that person had written a song about me, and we exchanged songs.
And then there's this reaction... do with it what you will:
Later, DeGeneres called out Lovato for saying she loves Jimmy Fallon, playing a clip of the singer on a recent Tonight Show episode where she gushed about Fallon. DeGeneres is hurt by the betrayal, as Lovato attempts to save face.
She told DeGeneres: "Ellen, I wanna ruin the friendship with you." Too bad DeGeneres had no clue what she was talking about!
Lovato cleared things up, explaining, "'Ruin the Friendship' is the title of the song we were talking about earlier. It's a good song, it's a good thing! It means I'm secretly in love with you."
Just to make sure that she's Lovato's favorite, DeGeneres one-upped Fallon's gift of pickles during the singer's recent appearance on his show, giving her a giant jar of pickles!
Lovato also dished about her upcoming documentary, Simply Complicated, with DeGeneres praising her, saying: "[Celebrities] are supposed to be perfect, have these amazing lives, and be happy all the time, and you are just brutally honest about what your life has been like. You talk about eating disorders, drugs, depression, everything."
Simply Complicated premieres on YouTube on Oct. 17.
Check out the entire Gen Why series and othervideos on Facebook and the Bustle app across Apple TV, Roku, and Amazon FireTV.