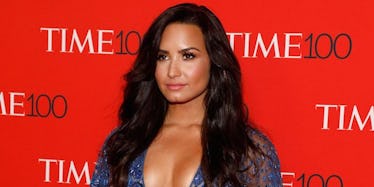 "Ruin The Friendship" Lyrics That May Prove Demi Lovato's Song Is About Nick Jonas
Getty Images
Demi Lovato has a reputation for putting her heart, soul, and personal life into her music, and her new songs are no exception. The sassy songstress hasn't been afraid to display her emotions for her fans to see and now that her latest album Tell Me You Love Me is officially out (yay!), we're getting even more insight into the mind of Demi. One song that particularly perked up the ears of Lovatics and curious listeners alike is "Ruin the Friendship." The track seems to be about a friendly relationship that had potential to cross the line into something more, and many are wondering if it's about a certain Jonas brother. Who is Demi Lovato's "Ruin the Friendship" about? Before the lyrics were released, people thought it was a nod to Selena Gomez. But upon further investigation, her words support the theory that the "Ruin The Friendship" lyrics are about Nick Jonas.
Here are the first intriguing first lines:
Put down your cigar and pick me up (pick me up) Play me your guitar, that song I love (song I love) Thirsty for your love, fill up my cup (up my cup) I got only good intentions, so give me your attention
Wait, did you say cigars? It's widely known that Nick Jonas happens to enjoy a puff from time to time. He also happens to play the guitar.
Here's more:
You're only brave in the moonlight So why don't you stay till sunrise? Your body's looking good tonight I'm thinking we should cross the line Let's ruin the friendship, let's ruin the friendship Do all the things on our minds What's taking us all this time Let's ruin the friendship, let's ruin the friendship Baby, you and I got history (history) And we can't deny our chemistry (chemistry) So why the fuck are we a mystery? (mystery) Let's just go with the connection, give me your affection
So, this has to be someone she has "history" with. An ex, or a pal, she's not scared to go to another level with.
"I don't think that any of my songs are necessarily 'made up,'" Demi told USA Today regarding putting her real life into her lyrics. "I relate to all of them through personal experiences. There are times when there are people that I write about and I don't want it to sound too obvious, so I'll disguise it a little bit."
Hmm.
"And for the most part, my fans know what's up," she explained.
Do they? Perhaps...
Maybe it is about Nick, though we're relatively certain that friendship hasn't exactly been ruined.
One friendship that has had a rocky history? Demi and Selena Gomez. The longtime pals, who met back in their Disney days, have been through a lot. Many fans wondered if the song was going to be about their relationship going south, but it just doesn't look like a clapback anthem a la Taylor Swift's "Look What You Made Me Do." "Ruin the Friendship" is more of a declaration of authentic, no-holds-barred, "let's see where this goes" feelings.
Lovato revealed a story behind the track in an interview with Vice,
I was frustrated with a certain situation ... And I was like, 'You know what, I'm just going to write about it.' And so I did, and sent [the songs] to that person, and that was ... Interesting. Any time you send a song about the person, to the person—it's ballsy. It's like, 'Hey! Here's my feelings for you!' … They knew [about my feelings], but neither of us had acknowledged [them] before. And then it turned out that person had written a song about me, and we exchanged songs.
Kudos for putting your heart on the line, Demi. Whether "Ruin the Friendship" is about Nick or not, it's still a bonafide banger.