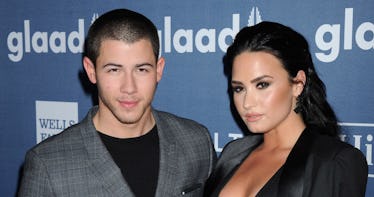 Nick Jonas Congratulated Demi Lovato On Her New Album & Fans Are Obsessed
REX/Shutterstock
Demi Lovato's new album, Tell Me You Love Me, is already getting major fan love, but there's one famous pal gushing about Lovato's new project too. For those wondering what Nick Jonas' response to Demi Lovato's album is, well, you didn't have to wait long. Jonas already hopped on social media to share his congratulations and love.
Jonas posted an Instagram Story to celebrate the new album, sharing it on Twitter as well, where he tweeted: "Simply the best. @ddlovato released her new album #TellMeYouLoveMe today. So happy for her. It is such a special body of work."
My heart.
In the video, Jonas says, "The day has finally arrived, Tell Me You Love Me, Demi's new album, is out now. I'm so proud of her, this is her strongest body of work yet and I just can't wait for the world to hear what she's done. Congrats, Demi."
Fans were, understandably, freaking out, especially since Lovato hinted that the song "Ruin the Friendship" is all about Jonas. She spilled all in a recent interview, not exactly naming any names, but fans are sure they've got it all figured out, with the lyric: "Put down your cigar and pick me up."
Lovato recently told Noisey who "Ruin the Friendship" is about, explaining:
I was frustrated with a certain situation … And I was like, 'You know what, I'm just going to write about it.' And so I did, and sent [the songs] to that person, and that was … Interesting. Any time you send a song about the person, to the person—it's ballsy. It's like, 'Hey! Here's my feelings for you!' … They knew [about my feelings], but neither of us had acknowledged [them] before. And then it turned out that person had written a song about me, and we exchanged songs.
So, it's all about Jonas, right? While she's staying mum about the song's meaning, it does seem rather obvious.
With Jonas' new video showing his support of her album, fans lost all chill. Right out of the gate, one fan noted: "I hope you're aware that you inspired two of her songs."
Another fan put it simply: "Marry her."
Another mentioned that old nemi ship:
This fan asked what's on everyone's mind: "Yall gonna ruin the friendship??"
There were a lot of comments about it, as you'd expect, with another fan asking: "Did you ruin the friendship??????"
Another fan didn't pull any punches (hey, it's worth asking, right?), tweeting: "WE WANT THE TRUTH ABOUT RUIN THE FRIENDSHIP"
And there were plenty of cute Jonas/Lovato moments shared because goals:
Someone else brought up the songs he wrote about Lovato: "Release the songs you wrote about her now please." Yes, please.
Another fan remarked: "Demi writing songs about Nick in 2017 isn't what I ever expected but wow am I here for it." We all are.
I have to admit that Jonas' constant support of Lovato is about the sweetest thing in the world. And fans are totally here for it.
During an interview on The Jonathan Ross Show, set to air Sept. 30 on ITV, Lovato was asked about her current relationship status. She answered: "I'm dating. I'm just having fun right now."
When asked if she's been with British men, Lovato said, "I wouldn't say dated... I've hung out with [them]. It's really funny because when they dirty talk it's really proper. Grammatically correct and proper. Like 'Would you like me to do this?' and you're like, 'Yes!'"
OMG.
Check out the entire Gen Why series and other videos on Facebook and the Bustle app across Apple TV, Roku, and Amazon Fire TV.