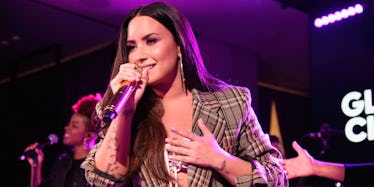 Fans Are Wondering When Demi Lovato Will Go On Tour After New Album Drop
Kevin Mazur/Getty Images
With a new album, there's typically an announcement about a tour. If you're looking to find out when will Demi Lovato go on tour for her Tell Me You Love Me album, well, you're not alone. As excitement has been building about Lovato's album, the buzz about seeing her perform the new songs live has reached an epic roar.
So, what's the scoop on a Demi Lovato tour? While the singer hasn't yet announced one, it's coming... oh you better believe it's coming.
On Thursday evening in NYC, Lovato attended a private meet and greet with fans and told them "You can expect a tour next year for sure." Oh, we're so ready.
In a recent interview with Noisey, Lovato dished about how, after touring for her 2015 album Confident, she was ready to move into some new territory, explaining:
When I went on tour and I sang all pop stuff, it just wasn't fun for me. It wasn't soulful; I wasn't getting into the songs. It was just kind of going through the motions. And when I came off tour, I was like, 'You know what, I want to write music that's going to be fun for me to sing every night.'
Connecting the dots here, since Lovato has new songs that she wrote and loves, the tour announcement should be coming any second.
Let's check out the official word from Lovato in some hints that she's been dropping recently. On Sept. 20, when a fan tweeted: "I can't wait for Demi's tour," the singer responded with "Mood."
When another fan posted that she hopes the singer "comes near me on tour," Lovato responded: "Hmmmm me too! Where are you??"
Lovato also tweeted about new merch, telling fans they can get "early tour ticket access" when they preorder: "New merch AND don't forget you'll get early tour ticket access too if you pre-order here."
Those purchasing the album or merch on the site receive a "Ticket Access Code," explained as: "good for the opportunity to purchase up to two tickets before general on-sale. Please note that tickets are available on a first-come, first-served basis."
On Sept. 22, she tweeted: "#TellMeYouLoveMe is one week away guys!!! If you haven't already pre-order at http://shop.demilovato.com to get first chance at tour tickets."
And the fans need the tour info, like, yesterday, with tweets such as: "Will you be going on tour soon!??? I can't wait to hear this album live! ILYSM Demi! #TellMeYouLoveMe."
Another fan added: "The meaning and emotion Demi has put into this album is truly incredible.. I can't wait for a tour, it'll be a beautiful experience.."
Others asked: "when are you starting tour?" and "is it going to be an actual worldwide tour this time?"
And this fan is beyond ready, tweeting: "wanna see demi on tour so bad."
Others tweeted: "dude I'm literally choked up just thinking about seeing Demi on tour again ..so proud of this girl it's insane" and "DEMI SAID SHE'S DOING A WORLD TOUR!!!! I REPEAT DEMI SAID SHE'S DOING A WORLD TOUR! A WORLD TOUR!!!!!!!"
When another fan asked "where?," she replied: "She said the dates will be released soon and she'll tour all next year!"
Another fan already has a plan in place, tweeting: "DEMI LOVATO IS DOING A WORLD TOUR IN 2018 AND I HAVE TO GO OMG WHO IS COMING WITH ME."
In a recent interview, Lovato said: "I plan on touring all next year… I'm doing a world tour, so hopefully we'll announce that soon."
Don't keep us waiting...
OK, we're waiting!
Check out the entire Gen Why series and other videos on Facebook and the Bustle app across Apple TV, Roku, and Amazon Fire TV.