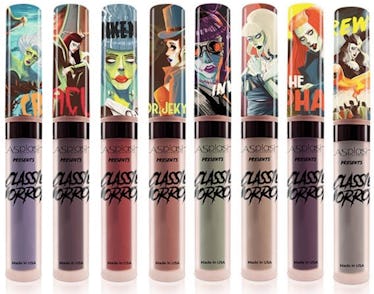 These Lipsticks Inspired By Horror Movies Are Perfect For Your Halloweekend Night Out
Now is not the time to fool around, folks. All Hallow's Eve is right around the corner, and a spooky look is a must for the occasion. If you're running a bit behind in the costume department, you're going to want to find out where to buy horror-movie inspired lipstick by LA Splash.
Sometimes a head-to-toe ensemble is a bit difficult (and expensive) to pull off, so a small ode to all-things spooky is the way to go. LA Splash's Classic Horror Collection is a perfect way to have blood-red lips like Dracula, a ghoulishly green-grey hue like Ms. Invisible, or a deep purple look like a phantom. These shades are a fun way to celebrate Halloween (or as Kylie Jenner, queen of lipstick, would call it: Tuesday).
Not only is the collection super adorable (and simultaneously spooky) but it is also fairly reasonable. For $16 each, customers are treated to one of eight colors: Mummy, Phantom, Frankie, Drac, Creature, Werewolf, Ms. Hyde, and Ms. Invisible. These villains clearly know how to make a splash in the makeup department, wouldn't you say?
Hold on to your witch hats — here is an ever-so-scary look at LA Splash's Classic Horror Collection.
Phantoms, mummies, and werewolves, oh my!
In order to achieve the ultimate frightening look, LA Splash provides a how-to when applying the lipsticks. According to the makeup site, "Ghouls & Gals, begin by outlining lips with the point of our custom heart shaped wand. Fill in as desired. Allow three to five minutes till completely dry." Thankfully, the ultra matte finish will stay on long into the night... when you'll be sucking the blood out of your victim's neck. Just kidding. I meant when you're bobbing for apples or enjoying a pumpkin dessert.
Now that your style for the scariest evening of the year is all set, it's time to enjoy the festivities. What do you and your crew have planned? There are plenty of Halloween party games to keep guests entertained in between bites of sweets. Looking for something challenging? Why not throw a murder-mystery theme into the mix? Want to unleash your creativity? It's time to have a pumpkin carving contest (and if you're out of pumpkins there are substitutes that work just as well).
No Halloween get-together is complete without a few sweet treats, so you're going to want to make sure you have the whole menu on lock before your best buds show up. Here's how to pretend you've got everything down pat (when in actuality you're a hot Halloween mess). There are super creepy and (most importantly) quick ways to give your party the ultimate spooky treatment with minimal effort. Try the spiderweb bean dip or white chocolate Jack Skellington Oreo pops for a scary aesthetic with a quick turnaround. No one will ever guess that it took you a hot second to prepare (a Halloween hostess never reveals her tricks and spells, anyway). And naturally, no party is complete without a cocktail, so sip on these odes to pumpkins when your friends show up in their delightfully frightening outfits.
As if you needed another reason to partake in the festivities, Halloween also proves to have health benefits, like strengthening friendships and relationships, getting a good walk in (while trick-or-treating, of course). Are you really going to pass up an opportunity to rock hardcore horror lipstick and spend a spooky night with your squad? I think not.
Happy Halloween, readers. Which shade of LA Splash's collection will you buy?
Check out the entire Gen Why series and other videos on Facebook and the Bustle app across Apple TV, Roku, and Amazon Fire TV.