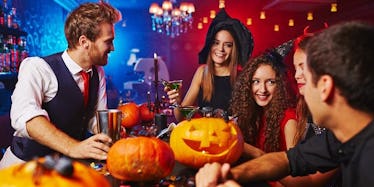 7 Best Halloween Games That Will Keep The Party Going All Night Long
pressmaster/Fotolia
If you're throwing a Halloween party this year, you'll want it to be poppin' until the witching hour. You can keep your guests occupied with an epic playlist for dancing, in addition to a spread of spooky and festive snacks, like dirt cups, roasted pumpkin nachos, and candy apples. When you're not dancing the night away or munching on delicious treats, you can round up the squad and play some of the best Halloween party games for adults.
Sure, you could go with the traditional bobbing for apples, but there are plenty of other games adults can enjoy, too. You'll want to have a lot of activities prepared, because we all know the best Halloween parties rage all night long. Even if you don't think your party needs games, it's best to be equipped with a list of fun options. I mean who doesn't love to let the friendly competition roll on a good game night? Probably only the sore losers, and even then, they're having fun playing. Needless to say, when you think you have everything planned out, but need some inspiration on some extra things to do, here are seven Halloween games that will keep your guests having fun all night long.
1. Murder Mystery
I think everyone loves watching the movie Clue, so why not channel the movie with a fun murder mystery? You can assign everyone a role based on their Halloween costume, and come up with a fun story that involves all of the characters. Your guests will have fun interrogating each other and mingling all night trying to find out whodunnit.
2. Halloween Scavenger Hunt
You'll most likely want to take some solid pictures of everyone's costumes anyway, so why not make a game out of it? You can set up a photo scavenger hunt around your neighborhood where all of your guests have to find and take pictures with different types of Halloween costumes. Make a list, and may the best team win a prize at the end.
3. "Celebrity"
Everyone knows how to play "Celebrity," right? It's a game similar to charades where you have a bucket filled with pieces of paper with celebrities or fictional characters' names written on them. One by one you go through the bucket trying to get your team to guess who you have before time runs out. It's a super fun game everyone at the party can get involved in.
4. Pumpkin Carving Contest
Carving pumpkins is one of the most fun things you can do for Halloween. You can set up a station for your guests to carve or decorate pumpkins at your party. At the end of the night, everyone can vote on the best pumpkin design.
5. "Thriller" Dance Off
"Thriller" is an iconic Halloween song that must be played at every Halloween party, no questions asked. So, why not have a "Thriller" dance-off? Not only is it fun to do, but it's also hilarious to watch.
6. A Game Of "Werewolf"
Depending on where you live, you may call the game something different, but "Murder," or "Werewolf," is a role playing game where people are assigned roles in a fictional town. There are murderers, or werewolves, that come out at night and kill one person each round. The townspeople have to guess who the murderer is. If they fail to accuse the correct person, the murderers win. There's also a One Night Ultimate Werewolf app you can get for your phone to play with your friends.
7. Costume Contest
Everyone will be showing up in their best Halloween garb, so it only makes sense to have a costume contest. You can even have a runway show in the middle of the party, so everyone can slay. You can even give out superlatives so everyone is a winner.