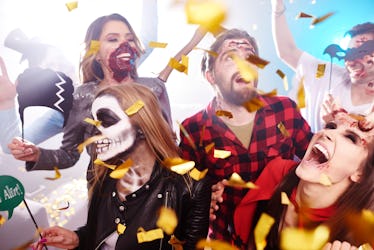 20 Clever Instagram Captions For Your BOOzy Halloween Party Pictures
Halloween may be weeks away on our calendars, but the hype is already upon us. You've probably already noticed the Halloween aisles at your favorite stores start to pop up. Pretty soon, the witching hour will be here, so you better start planning for your epic Halloween party right now. You'll need an awesome costume, all the candy you can get, wicked decorations, and of course, if you're 21 and up, lots of boozy drinks. It's better to start thinking ahead, because you know things will start to creep up on you before you even know it. It's always best to have some clever Instagram captions for Halloween party photos ready.
You know you'll need to snag a picture or two with all of your friends in their Halloween costumes, so why not be prepared to post right away? You'll want to remember this Halloween, and in between all the witches brew you're drinking, you can post to Instagram so you never forget these memorably spooky times. You don't need to stop partying through the thrilling night with these 20 Instagram captions for your BOOzy Halloween party at your disposal. So point me in the direction of the cauldron that's bubbling, because I'm so ready for Halloween to be here already.
1. "I'm here for the boos."
2. "My broomstick runs on pinot."
3. "Eat, drink, and be scary."
4. "Get dressed up, to get messed up." — Roomful of Blues
5. "To mirth, to merrymaking, to manslaughter." — Gomez, Addams Family Values
6. "Pick your poison." — Lil Durk
7. "Witch, please!"
8. "A wicked good time." — Hercules: The Legendary Journeys
9. "Hocus pocus, we need wine to focus."
10. "By the pricking of my thumbs, something wicked this way comes." — William Shakespeare
11. "Trick or treat yo' self."
12. "Drink up, witches."
13. "Let's get spooky."
14. "It's just a bunch of hocus pocus." — Hocus Pocus
15. "Drink up witches, for tomorrow someone might drop a house on you."
16. "Creep it real."
17. "Witch better have my wine."
18. "Amuck, amuck, amuck." — Hocus Pocus
19. "Witch way to the boos?"
20. "Double, double toil and trouble; fire burn, and cauldron bubble." — William Shakespeare