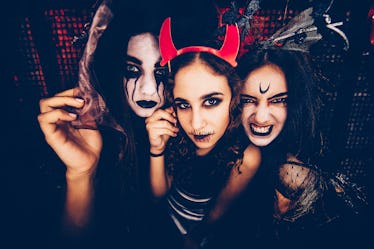 The 34 Best Captions For Halloween Are Here, So It's Time To Get Your Boo On
During certain nights of the year, social media is like one big competition. Everybody wants to post the cutest picture with their significant other on Valentine's Day, and travelers are trying to one-up each other with their latest #content once summer hits. On Halloween night, everyone might as well be contestants on a reality television show. Will your post get the final rose? Thanks to the best Instagram captions for Halloween, you just might.
For Halloween, you might want a caption that goes with your costume. Maybe you're dressing up as one of your favorite sitcom characters, and are going to caption your post with a line from an episode. That would totally be appropriate and festive. But if you're feeling stuck and just want a really good caption for the spookiest night of the year, look no further. The 34 best captions for Halloween are here and were decided on by your favorites from the dark side.
1. "Something wicked this way comes." — William Shakespeare
2. "Every day is Halloween isn't it? For some of us." — Tim Burton
3. "Come to the dark side. We have candy and pumpkin spice."
4. "At this point, my blood type is pumpkin spice."
5. "Double, double, toil and trouble; Fire burn and cauldron bubble." — William Shakespeare
6. "When black cats prowl and pumpkins gleam, may luck be yours on Halloween."
7. "All of the dust and cobwebs in my house just became decorations. Thanks, Halloween."
8. "Witch better have my candy."
9. "Ghost hug! You can't feel it, but it's there."
10. "Trick or treat, smell my feet." — Lisa Desimini
11. "Magic is really very simple. All you've got to do is want something and then let yourself have it." — Aggie Cromwell, Halloweentown
12. "I'm not going to kiss the camera. I'll kiss you, but I won't kiss the camera." — Paranormal Activity
13. "Oh look, another glorious morning. Makes me sick!" — Hocus Pocus
14. "Cutest pumpkin in the patch."
15. "Great Pumpkin believer since..."
16. "Don't be silly, darling. It's Halloween season."
17. "Even the leaves fall for you."
18. "Spooks sold separately."
19. "Spooks galore."
20. "Give 'em pumpkin to talk about."
21. "Halloween is not a day. It's a lifestyle."
22. "Happy as a witch in a broom factory."
23. "If you were a ghost, you would still be my boo."
24. "Say boo and scary on."
25. "What a haunt mess."
26. "You know what you should be for Halloween? Mine."
27. "You say witch like it's a bad thing."
28. "But I think I love Halloween most of all."
29. "Wicked never looked so cute."
30. "Goblin candy all night long."
31. "If the broom fits, fly it."
32. "I'll put a spell on you."
33. "This is my Halloween costume, OK? I worked very hard on it."
34. "You're never too old to beg for free candy."
This article was originally published on