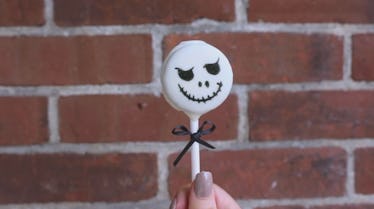 8 Quick & Easy Halloween Recipes For The Lazy Girl Who Wants To Look Like She's Got It Together
Halloween will be here sooner than we expected. You probably made plans with your friends awhile ago thinking you had all the time in the world to prepare, but the day is quite literally like a zombie and it's slowly creeping up behind you. I can totally relate to the lazy girl who left all of the planning until the last minute. I've definitely found corn in the back of my freezer that I made in minutes for a potluck, and acted like it took me hours to prepare. I can relate to the need for quick and easy Halloween treats to make when you're feeling lazy AF (but want all of your friends to think you have your sh*t together).
You don't want your friends showing up to your party, or you showing up to theirs, without any food. I mean, Halloween is all about the snacks, so they're definitely essential for a monster mash bash. That's why these eight Halloween recipes are absolutely perfect, because they're super simple and you can throw them together when the clock is winding down and your party is about to begin. We've totally got your back, so you can keep on looking like the cool queen you are this Halloween, despite also secretly being a procrastinator to the extreme.