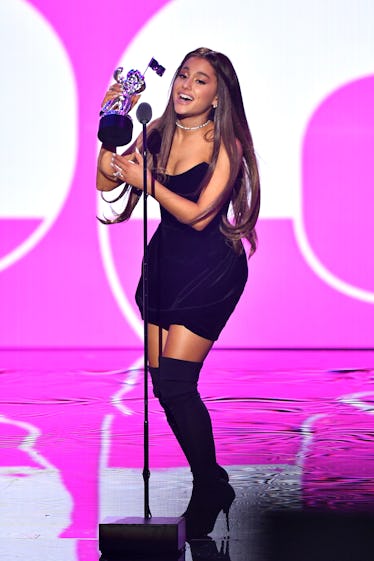 Here's Where To Buy Ariana Grande's 'Sweetener' Merch To Look As Sweet As Her Album Sounds
Michael Loccisano/Getty Images Entertainment/Getty Images
Ariana Grande has really been having a moment, people — she's successfully solidified herself as one of the best voices at this moment in music history. But in addition to that impressive feat, she's become quite the style icon, not to mention an Instagram pro as well as an all-around dangerous (and engaged!) woman. Everything she does or says, her fans want to immitate, and that goes for what she wears as well, which is why the merch for her latest album has become so highly coveted. Once Grande started rocking it on her feed, Arianators everywhere started wondering where to buy Ariana Grande 'Sweetener' merch, and I'm here to share exactly how to get your hands on it, should you be looking for your next fave comfy sweatshirt, a future Instagram OOTD pic, or both.
If you're a '90s baby like myself, you've probably got a pajama drawer chock full of music merch from your childhood, almost all of which consists of oversized black t-shirts with tour dates printed on the back and an oversized photo of the artist's face emblazoned on the front. Almost everyone had the exact same merch back then, and I have two Ryan Cabrera shirts, one Avril Lavigne shirt, one Kelly Clarkson shirt, and an impressive 13 Jonas Brothers shirts to prove it.
In 2018's aesthetic-obsessed world, though, this old-school merch simply won't do. No offence to Ryan Cabrera, but I wouldn't be caught dead rocking a shirt with his face on it all over my Instagram Story. (OK, maybe I would, but most would not.) To put it simply, Ariana Grande fans are as stylish as she is, and they want to dress like her, so it's no surprise she set out to make merch cute enough for her to we herself.
Enter: the Sweetener merch, which consists of a collection of Instagram-approved crew necks, fanny packs, surgical masks (oh, yes) and socks:
The entire collection of merchandise is available at Grande's online merch store, and there are options for everyone, whether you want something chic, something cozy, or you're someone who really did love those old "face emblazoned on a concert t-shirt" vibes.
Ari herself seems to love a cozy crew neck (worn oversized as a dress, natch), so it's likely that these will be the most popular items available.
All of the crew neck options retail for $55, and all of the merch in general includes a digital download of the album with your purchase, as well as access to pre-sale tickets for Grande's 2019 tour, so if you're planning to pick up the album anyway, it's a good excuse to treat yourself to something cozy.
Can I be real with you for a sec? Yes, more real than admitting above that I've attended 13 Jonas Brothers concerts, which I have no shame in. TBH, I didn't love the Sweetener album, but I do love Ari and her talent, and this merch is so cool, that I might buy it anyway?? Now that's successful marketing.
Along with the crew sweatshirts and some other clothing options are some fun accessories, including socks, a fanny pack, a backpack, and a surgical mask, the last of which I truly can't explain, but hey, if it's what the kids like, go off.
Out of all the merch you might feel tempted to snag, the t-shirts with Grande's face on them are likely the least appealing, now that one fan has come forward on Twitter about the initial bad quality of this particular product.
Ari herself even tweeted at the fan and apologized for the low-quality product:
A few janky t-shirts aside, it does seem like Grande nailed the whole wearable merch thing, so we can expect to see tons of cozy crew neck sweatshirts (and surgical masks) popping up in the crowd during next year's 2019 tour.