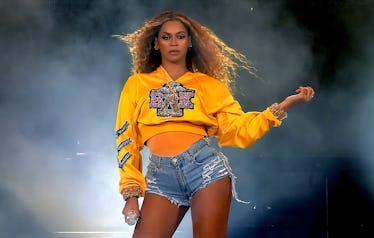 Beyoncé & Jay-Z's Tour T-Shirts Are The "Holy Grail" Of Concert Merch
Kevin Winter/Getty Images Entertainment/Getty Images
If you didn't buy the merch, were you really there? An Instagram may be worth a thousand words but a trophy concert T-shirt is "Irreplaceable." The first looks at Beyoncé and Jay-Z's On The Run Tour II merch are here and the goods aren't just fierce, they're Sasha Fierce.
Bey and Jay's On The Run II tour began on June 6 in Cardiff, Wales and I already have FOMO. The Carters are touring around Europe first and won't make their way to the United States until July 25 when they'll touch down in Cleveland, Ohio, but that doesn't mean I can live vicariously through all their fans across the Atlantic.
Beyoncé and her hubby have already been making waves with their On The Run II tour book which features rather intimate photos of the couple. Rumi and Sir Carter have also made cameos in during their parents' performances which the internet went wild over. A slightly less publicized part of the duo's tour, though, has been the On The Run II merch. Bey still has Lemonade memorabilia available for purchase on her site, but there's no sign of new goods there yet. It seems that only true members of the Beyhive who attend the shows will have access to the coveted duds for now, but luckily, those fans are sharing a look at the new designs.
The On The Run II Tour Twitter account teased fans with a photo of the merch truck arriving at one of the performances. The truck converts into a portable store for easy transitions between shows.
Fans were ready to see what was inside that truck.
Finally a peak at the good stuff! The color scheme for the clothing and accessories is predominantly black, white, and grey. I see plenty of graphic tees and hoodies, likely everything is printed with "OTR II."
Not only is there On The Run souvenirs but fans can also get Lemonade and 4:44 keepsakes. How's a girl to choose??
The selection is mostly short- and longe-sleeved shirts as well as crewneck sweatshirts and hoodies. Text is printed on the back of many of the items, it's unclear what it says but it could be the set list or lyrics from some of the artists' songs.
There's also some souvenirs from Beyoncé's Coachella set and at least one Ivy Park branded tee.
One Bey fan accounts shared a photo of a coach jacket (a similar style to a wind breaker) with a photo from the tour promos printed on it.
So much merch. I want it all.
A tiny handcuff keychain! I NEED.
If you're lucky enough to have scored a VIP ticket to On The Run II, it looks like you'll get access to some extra special products. A Beyhive Twitter fan account showed up an OTRII wireless speaker, baseball hat, and yellow sunglasses.
A flag with a photo of the power couple is apparently also available for VIP concert-goers.
Because the merch is only available for purchase at the performances thus far, many fans are requesting better images of the goods.
Those who have been to the shows though, are reassuring people like me that it's good stuff.
I think it'll be worth the wait.
Same.
Every. Single. Thing.
Farewell, money, it was nice while it lasted.
This fan knows what's up. I also see a clear plastic "OTR II" backpack that could come in handy to carry all those good buys in.
Take it, just take it.
That would be a no.