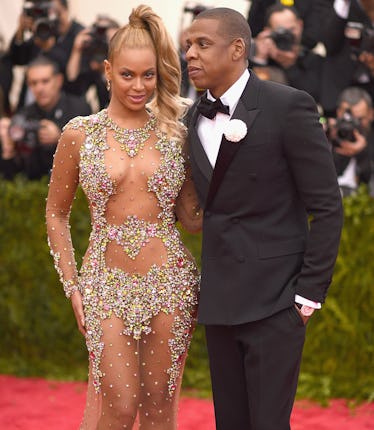 Here's An Actual Video Of Beyoncé's Twins & Yes, They Look Exactly Like Her & JAY-Z
Dimitrios Kambouris/Getty Images Entertainment/Getty Images
All I need in this life of sin is Beyoncé and JAY-Z living happily ever after. I know those aren't the lyrics but, quite frankly, I don't care, because these two singers are my absolute favorite and I will never not ship them. The power couple finally kicked off their On the Run II tour at Principality Stadium in Cardiff, Wales on June 6, and showed fans some special moments from their blissful life together on the large screen during their performance. But believe me when I say that the photo of Beyoncé's twins Rumi and Sir is not only the cutest thing you'll see all day, but it showcases just how much they look like their mega-famous parents.
There was ~a little~ confusion at first, because another photo featured on tour of Beyoncé holding two babies and JAY-Z cradling the same two babies made it seem as though those pictures were of Rumi and Sir. But US Weekly confirmed that the babies in those photos were not Rumi and Sir, so bummer. But fret not! The real babies will be making an appearance, so just hang tight.
Towards the end of the show, Beyoncé and JAY-Z performed "Forever Young," while footage rolled onscreen behind them. It shows the pair in all white with their children, Blue Ivy, Rumi, and Sir, who are matching their parents. Beyoncé is in a white gown and veil and her two daughters are wearing flower crowns, leading me to believe that this was probably a vow renewal ceremony. We see JAY-Z and Beyoncé take each other's hands and face each other, and begin their ceremony.
Are you crying yet? Because there's more.
At the end of the video, a message reads, "This is real love," so don't mind me as I sob into a bucket that's already filled with my tears.
Oh, you wanna see the video? Watch it and WEEP:
Are you sobbing yet? No? Check out this zoomed-in photo of the lil' twins:
HELLO PRECIOUS BABIES, PLEASE LET ME SMILE AT YOU ALL DAY.
Of course, fans were beyond happy to see what Rumi and Sir look like, considering Beyoncé and JAY-Z keep them pretty well-hidden from the paparazzi (as they should), and took to Twitter to share their obsession for these two little nuggets:
Do you see Rumi's little smile?! Do you see Sir's confused-yet-adorable face? I just can't with these two.
I'm sort of seeing both Bey and Jay here, though I'm no baby look-alike specialist.
The singers have been married for ten years, and, despite having some trials and tribulations, have ultimately come out on top. "Beyoncé and JAY-Z went through a rough patch, like most couples do, but they have worked past that and are doing great," a source told Entertainment Tonight. "The couple worked very hard to get past their issues, and realized they are better together than apart." Elite Daily Reached out to Beyoncé's team about the report, but did not hear back by the time of publication.
That's right, you guys. Even throughout their marital troubles, these two are there for each other through thick and thin, and that's deserving of a round of applause if you ask me.
Keep in mind that these two used music as a form of therapy after it came out that JAY-Z was unfaithful to his wife. Though both Lemonade and 4:44 were initially set out to be a joint release, that's not exactly what ended up happening. JAY-Z opened up in his interview with The New York Times' T Magazine about how they decided to move forward together:
It didn't happen in that way. We were using our art almost like a therapy session. And we started making music together. And then the music she was making at that time was further along. So her album came out as opposed to the joint album that we were working on. Um, we still have a lot of that music. And this is what it became. There was never a point where it was like, 'I'm making this album.' I was right there the entire time.
You hear that, world? That's the sound of two people in love showing everyone else just how it's done. Bravo, you two. Bravo.