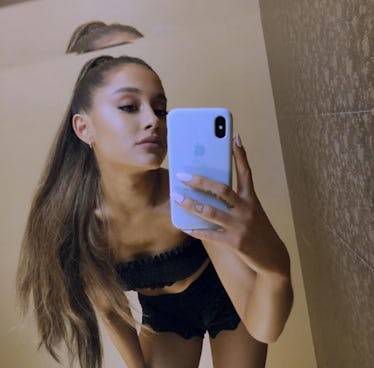 These Instagram Captions From Ariana Grande's 'Sweetener' Will Sweeten Your Like Count
Instagram/@arianagrande
Ariana Grande is a literal pro at Instagram. She's someone who knows exactly how to to use the platform to make her mark. And now that her new album Sweetener has been released, you can follow her lyrical lead. Let me tell you, Ariana Grande Sweetener Instagram captions are about to be all the rage. The lyrics from her fresh batch of songs are pretty much perfect for the social media platform — you'll never be at a loss for words again.
Ariana covers everything from soulmates to breakups to overcoming loss to the power of sexuality on her latest album. Sweetener runs the emotional gamut — Ari touches on dealing with a toxic relationship, as well as discovering new ways to bring light into her life (cough, Pete Davidson, cough). It's a celebration of being one's self, following your heart, and finding the goodness in life. It's also peppered with what you might call veiled inspirational quotes, sans the cheesiness. The heartfelt authenticity of her story is totally relatable in a handful of uplifting ways, which is why the lyrics make for the ultimate photo accompaniments. Not a natural wordsmith? Don't worry — there are pop stars for that. If you're looking for Instagram captions, Ariana's Sweetener has got you covered.
1. Full of newfound hope?
From the track "Sweetener:" When life deals us cards / Make everything taste like it is salt / Then you come through like the sweetener you are / To bring the bitter taste to a halt
2. Wanna show bae some love?
From "Pete Davidson": I thought you into my life, woah / Look at my mind, yeah / No better place or a time / Look how they align / Universe must have my back / Fell from the sky into my lap
3. Soooo OVER it?
From "The Light Is Coming": Give you a box of chances, every time you blow it all (blow it all) / As if it were shade, you would just throw it all (throw it all) / It's like you're trying not to glow at all (glow at all)Know-it-all (know-it-all)
4. Got marriage on the brain?
From "R.E.M.": But you are not a picture, I can't cut you up and hide youI'll get you out my mind, mhm, I tried to / But I just want to stand and yell I will never dare to tell / Think I heard some wedding bells, shh, keep it to yourself / Is this real? (Is this real?)
5. Just generally feeling yourself?
From "God Is a Woman": And boy, if you confess, you might get blessed / See if you deserve what comes next / I'm tellin' you the way I like it, how I want it
6. Are you a total boss and you just have to share it with the world?
From "Successful": Tonight, I'm a baller, babe (Tonight, I'm a baller, baby) / Even way beneath in, yeah, oh, woah (Even way beneath me) / What else is there to say, boy? (What else is there to say, boy?) / Say, bae, you should play with me, babe
7. Are you out and having the best time ever?
From "No Tears Left to Cry": Right now, I'm in a state of mind I wanna be in, like, all the time.
See? There's a fitting lyric caption for every possible mood or scenario on Sweetener. Happy snapping!