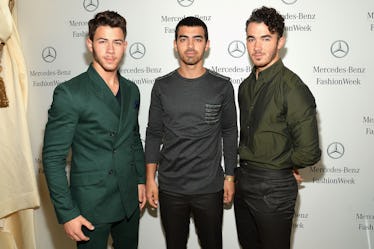 Nick Jonas Talked About The Jonas Brothers Reunion Rumors At The Grammys & OMG
Mike Coppola/Getty Images Entertainment/Getty Images
Nick Jonas decided to arrive early at the Grammy awards this year — which turned out to be a very good thing. Of course, fans were dying to know if the Jonas Brothers reunion was happening. WELL, IS IT NICK? Are the Jonas Brothers having a reunion? The singer answered Ryan Seacrest's question about the reunion and it's a little disappointing, but you can "never say never," according to Jonas.
Nick Jonas looked handsome (as always) on the red carpet. The "Jealous" singer rocked a simple black T-shirt that said "Detroit" across the chest with a loose-fitting, grey houndstooth blazer — looking dapper with the collar popped and all.
When he first arrived for his interview with Ryan Seacrest, the host was finishing up talking to Camila Cabello. (P.S.: Has Ryan Seacrest always worn glasses? Asking for a friend.) As Jonas walked up, Seacrest confirmed that Cabello and the singer hadn't seen each other since New Year's Eve. Seacrest then jumped ship and left the two alone together. It was a little awkward as the two compared the sizes of their white roses. Seacrest finally relieved them and continued his interview with Jonas. The two talked about all sorts of things, and fans finally got the answer to the big Jonas reunion question.
Side note: What happened during NYE that was so awkward, Nick?
We will probably never get an explanation for Jonas' red carpet awkwardness, but he did give an answer about the Jonas Brother reunion.
If your heart is racing and palms are sweating over not knowing about the supposed reunion — don't panic, it was a false alarm. On Jan. 16, the retired band's fan Instagram account was re-activated. This was a BIG FREAKING DEAL to fans who have held on to hope that the brothers rekindle.
If a band was going to get back together, they would need a fan page, right? RIGHT?
Nick Jonas shut these thoughts down. He flat-out said there's no reunion planned, but added "never say never."
I do love that Nick left a shred of hope by saying, "never say never." The brothers each went their own way in 2013. The three still remain incredibly supportive and close. The current DNCE member, Joe, has said in the past that he would be down to collaborate with his brothers. He told PrideSource magazine in 2015 that he and Nick have various artists they would love to collaborate with. He said,
I would say so. Nick and I have a few ideas to work with other artists who we really like. There are a couple of artists out there that we think are really incredible that we'd like to work together with.
Of course, "time" is always a factor, according to Joe. He continued,
And then, there's always down the road. We don't really ever wanna say never to anything just because there could be something that comes along our way that we might say, 'You know, let's try working on this song together.' It's tough to say that we'll never do it because who knows.
Joe did torture fans a little more when he finished up the interview by saying a Jonas Brothers reunion "could easily happen."
And who knows — years from now we could be like, 'All right, let's make a record.' It could easily happen.
*Cries forever.* Although a Jonas Brothers reunion may not be in the near future, I will never give up hope.
Check out the entire Gen Why series and other videos on Facebook and the Bustle app across Apple TV, Roku, and Amazon Fire TV.