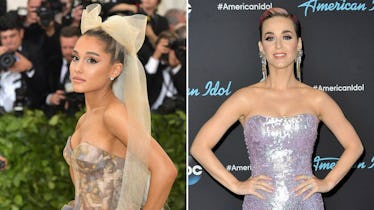 Ariana Grande Had The Sassiest Response To Katy Perry Giving Her Unsolicited Advice
Neilson Barnard/Allen Berezovsky/Getty Images Entertainment/Getty Images
Is it just me, or is Ariana Grande starting to turn into a clapback queen? I don't know if she's channeling her inner Chrissy Teigen or what, but I am loving the amount of sass that Grande has been putting out into the universe lately. We've received yet another epic comment by the Queen of Pop again, but this time, it's directed towards another famous singer — Katy Perry. While I'm pretty sure it was meant in good fun, Ariana Grande's response to Katy Perry will make you say, "Damn, Ari!"
Katy Perry clearly has a maternal instinct when it comes to Ariana Grande, and her Instagram comment is proof. But first, let me put you in the right mindset to fully understand this Instagram exchange.
Now, don't act like this scenario has never happened to you before: You're young and still living at home, but old enough to go and hang out with all of your BFFs. You look fly AF, and your friend who just got their driver's license comes to pick you up (in her parent's car, obvi). You're running out the door, when your mom stops you and asks if you brought a jacket. You laugh and tell her that you're not even cold, and you head out the door, and about a half hour later, you're shivering your face off, regretting the fact that you didn't listen to your mom.
Well, guess what? KATY PERRY IS MOM IN THIS INSTANCE, AND MY HEART IS SORT OF EXPLODING WITH HOW ADORABLY CUTE THAT IS.
Popular Instagram account @commentsbycelebs caught the mother/daughter-like exchange on Ariana's Instagram. The snapshot showed Ariana looking absurdly gorgeous, wearing her jacket ever-so-slightly off her shoulders (which is her staple these days), making her look somehow even more effortlessly cool than she already is.
But Katy Perry is not having it, you guys.
She basically told the pop icon to cover up, commenting on the photo and writing, "Can you put on your jacket once please just once."
And, in classic teenage-rebellion form, Ariana bluntly wrote back, "no."
Someone is *totally* losing their internet privileges in the Perry-Grande household tonight. You can check out the sassy exchange below, which I am living for right now:
But again, let's keep in mind that these two aren't *actually* feuding, and there's no real drama between them (that we know of, at least.)
In fact, the two go as far back as October 2015, when Katy Perry helped Ariana Grande transition from acting into singing. In an interview that same year with the Zach Sang Show, Grande spoke about how sweet the "Dark Horse" singer was to her. She said, "Well, you know, Katy was very nice to me when I first put out music. And she sort of like, took me under my wing and was like, 'Hey, if you need anything, I can totally be here for you,' and whatever."
So sweet! Grande continued, telling Sang:
She was very welcoming and wonderful, and it was so crazy because I went to her show at the Staples Center a couple years ago and I was totally inspired by it. I was like, 'wow…I want to do this one day'. And then just three years later, I had my own show there and she came and she held my hand in the prayer circle, and she was there, and she was like, 'Girl, you were here a few years ago watching me and now I'm here watching you. You better kill it, girl,' so she's always been really supportive and that's very surreal.
BRB, sobbing.
So there you have it, folks. Katy Perry and Ariana Grande are clearly friendship goals — and have no problem trolling each other, but all in good fun.
Cuteness overload, you two.