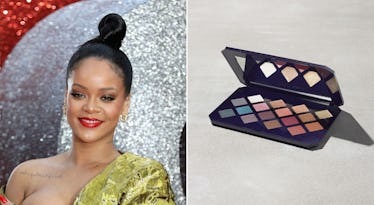 Rihanna Is Truly Slaying Us All Again With Fenty Beauty's New Moroccan Spice Palette
Tim P. Whitby/Getty Images Entertainment/Getty Images // Fenty Beauty
In typical Rihanna fashion, the Barbados-born musician set the internet ablaze early Monday, June 25, after she announced that Fenty Beauty's Moroccan Spice Eyeshadow Palette would be the latest addition to her makeup line. According to the brand's website, the palette will include 16 long-wear shades, inspired by the country of Morocco, that will range from matte to shimmer finishes. The best part? RiRi also included "Evil Genie," a metallic turquoise shade, which users can play with to recreate her look from the "Wild Thoughts" music video.
"When I think of Moroccan spice markets, I think of rich, sultry flavors," Rihanna said in a statement on the Fenty Beauty website. "This palette embodies that. I love that there's a little dash of everything here. If you only need one palette in your life right now, this is it!"
In her original release announcement on Twitter, the singer promised the new product would be available starting July 6 through Fenty Beauty and Sephora, as well as Harvey Nichols for U.K. customers. However, a look at the Fenty Beauty site suggests the palette may have been available this morning, and it's already out of stock. Beauty insider account Trendmood also recently tweeted that the palette was seen the morning of June 25 online at Sephora. As I'm sure most are, I was totally confused by the switch in dates and took a look for myself. To my surprise the Moroccan Spice Eyeshadow Palette is on the beauty retailer's site, but it now lists the product as "coming soon."
I'm not sure if this is a glitch, a mistake, or we're all just having a very, very weird Monday. Either way, if you're in a rush for the new palette, it looks like you may still have to wait until July 6.
There's no word yet on whether or not the product is limited edition, or if it will be added to the regular Fenty Beauty lineup. But what I do know is that, if there's as much hype about the Moroccan Spice palette as there was about some of Rihanna's other products that have sold out in the blink of an eye, there will be a lot of disappointed beauty junkies out there, unless RiRi's planning a ri-stock. (Haha, get it?)
Back in March, Rihanna first teased Body Lava, a full-body glow oil, with some DIY videos on her Twitter feed, followed by an announcement that the shimmery, glowing new product would be available starting April 6. But it sold out in a flash! So, unless you were some of the very first in line, many had to settle for dupes or even created their own versions to get some of that summer glow.
Even if you can never seem to get your hands on her latest goodies, there's no denying the Grammy winner's impact on the cosmetics industry has been extraordinary. In just under a year, the icon has flipped the script on inclusivity and likely forced many other brands to increase their shade range to become more diverse and market their products to consumers they previously overlooked.
"I never could have anticipated the emotional connection that women are having with the products and the brand as a whole," Rihanna told TIME in November 2017. "Some are finding their shade of foundation for the first time, getting emotional at the counter. That's something I will never get over."
And it doesn't look like Rihanna plans to slow things down at Fenty Beauty anytime soon.
"The options are pretty much unlimited in the world of beauty, and I love challenges," she later told the publication, "so I'm going to continue to have fun and push the boundaries in this industry."
Aside from just her beauty line, Rihanna also told Vogue for its June 2018 cover that she plans on releasing a reggae album, which fans seem to be itching for.
So, whether it's music, makeup, or lingerie, I can't wait to see (and buy) whatever she has coming out next!