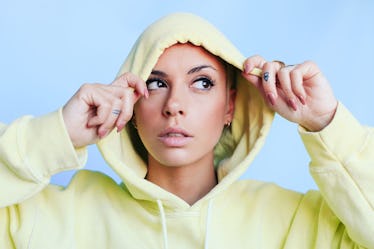 7 People Share The 1 Thing They Wish They'd Said During Their Breakup
Regret is a cruel, coldhearted b*tch, and breakups tend to be chock full of it. You might regret the things you said to your ex in a fit of distress or downright rage. You might regret how long you let the relationship play out when you were clearly unhappy, or the effort you didn't make to salvage things. But here's a question — what's the one thing you wish you'd said during a breakup? Whether a heartfelt comment about your time together, a question that might help give you clarity, or a self-affirming assertive statement, that thing you didn't utter can haunt you long after the relationship has come to an end.
It's super common to have these regrets, too, because breakups can throw you through an emotional loop. If you're the one who's being broken up with, you might be in such a state of shock that you become speechless. And if you're the one breaking it off with your partner, their emotional reaction may surprise you so much that you're at a loss for words as well.
There's obviously no perfect thing to tell your partner during a breakup, but still, sharing certain thoughts or feelings can help you to achieve a sense of closure. From the poignant to the slightly petty, here's what a handful of people wish they said during their split.