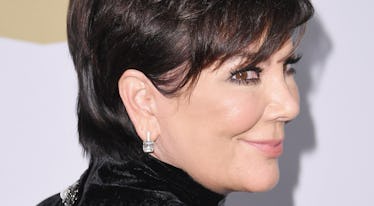 This Is How Kris Jenner Would Handle Your Relationship Problems, Momager-Style
Kevork Djansezian/Getty Images Entertainment/Getty Images
Kris Jenner is a genius, which is why I like to make all my decisions by asking what any Kris-fearing person would: What would Kris Jenner do? It's how I decided that the color scheme of my future Calabasas mansion would be black and white, duh.
Whether you're a fan of the Kardashian-Jenner clan or you've adjusted your web-browser settings to avoid them entirely, you have definitely heard of their billion-dollar family empire before. Kim may have started the media frenzy but momager and icon Kris Jenner is the one who's kept it going for all these years.
Who better to teach you how to take control of your love life than the woman who helped Kylie Jenner steal the spotlight from the 2018 Super Bowl? I have no clue who won the Super Bowl — heck, I don't even know who played — but I do remember every second of Kylie's 12-minute-long pregnancy announcement. And it was f*cking beautiful. Perfect score for Kylie! That's something they say in football, right?
But back to Kris! If you ever need someone to clap back at your haters, throw shade on Instagram, or coordinate a pregnancy pact, it's Kris Jenner. So when the time comes to overhaul your love life, just channel your inner Kris and you'll be doing amazing, sweetie.