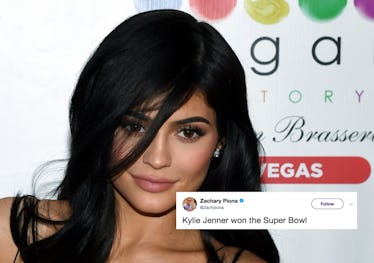 Fans Think Kylie Jenner's Pregnancy Video Won The Super Bowl & The Tweets Are Hilarious
Ethan Miller/Getty Images Entertainment/Getty Images
Mark Feb. 4, 2018, as one of the most iconic days in history. While football fans are gearing up for the Super Bowl, the internet is still blowing up about Kylie Jenner revealing that she has given birth. Well, these tweets about Kylie Jenner & the Super Bowl prove that Jenner is going home with that MVP trophy.
Jenner took to Instagram not only to confirm her long-rumored pregnancy, but also to reveal that she had already given birth to a beautiful baby girl on Thursday, Feb. 1. In the post, Jenner explains her reason for being essentially MIA for the past nine months. It turns out, she just wanted to prepare for motherhood away from the spotlight and keep herself and her baby away from any stress. Understandable.
In another Instagram post, Jenner shared an 11-minute YouTube video which gives us a glimpse into the past nine months leading up to the birth of her daughter. Both the video and Jenner's Instagram have gone viral across the internet since this afternoon.
Meanwhile, a football game is apparently happening on NBC. On Feb. 4, the Philadelphia Eagles are facing off against the New England Patriots in the 52nd Annual Super Bowl. As of Feb. 3, Patriots' Quarterback Tom Brady received the NFL's Most Valuable Player award.
Well, hate to break it to you, Mr. Brady, but Twitter is convinced that Jenner has stolen the spotlight from NFL's biggest night and ultimately snatched that MVP trophy right from under you.
Tom Brady who?
Twitter may be a little over the top, but they're not exaggerating about how amazing Kylie Jenner's video is. In the 11 minutes, we get to see candid moments between her and Travis Scott, heartwarming family get togethers, and tear-jerking testimonials from her friends. It almost makes up for the fact that we've been in crippling curious suspense for the past nine months. Almost.
In addition, Jenner's Instagram post explaining her quiet pregnancy is not only so sweet, but also shows she's truly taking motherhood seriously.
She wrote,
I'm sorry for keeping you in the dark through all the assumptions. I understand you're used to me bringing you along on all my journeys. My pregnancy was one I chose not to do in front of the world. I knew for myself I needed to prepare for this role of a lifetime in the most positive, stress free, and healthy way I knew how. There was no gotcha moment, no big paid reveal I had planned. I knew my baby would feel every stress and every emotion so I chose to do it this way for my little life and our happiness. Pregnancy has been the most beautiful, empowering, and life-changing experience I've had in my entire life and I'm actually going to miss it. I appreciate my friends and especially my family for helping me make this special moment as private as we could. My beautiful and healthy baby girl arrived February 1st and I just couldn't wait to share this blessing. I've never felt love and happiness like this I could burst! Thank you for understanding.
Following Jenner's announcement, Kris Jenner took to Twitter to express her immense joy at welcoming another grandchild into the world:
"God is SO good!! I am so excited and thrilled to welcome another precious baby girl to our beautiful, ever growing family. We are blessed beyond belief," Jenner tweeted.
While it's doubtful that Jenner planned the announcement specifically to coincide with the Super Bowl, we still can't help but wonder if there were some other forces at play when all of this went down.
Did I mention that This Is Us is also airing tonight? Today is just too much.