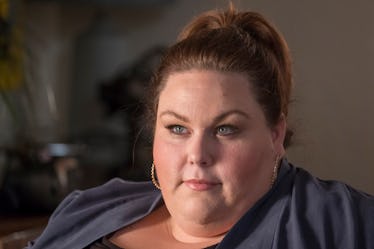 'This Is Us' Is Airing Two Episodes In One Week, So Prepare Your Emotions Now
RON BATZDORFF/NBC
NBC is blessing us with a brand spankin' new episode of This Is Us after the Super Bowl on Sunday, Feb. 4, but just because audiences are getting The Big Three after the big game doesn't mean they'll have to wait over a week for more drama to unfold. If you're wondering, "Is This Is Us airing on Feb. 6?," have no fear — the Pearsons are here two times in the next week. Don't say we didn't warn you to stock up on extra tissues.
If you've been watching the never-ending cry-fest that is this season of This Is Us, you probably know that the post-Super Bowl ep is going to be a doozy for the ages. Last week, we finally got some insight into what started the fire that burned down the Pearson's Pittsburgh home (we're looking at you, old tricky slow cooker) and we got a glimpse as the devastating flames engulfed what they worked so hard for. The promo for the next installment promises "all our questions will be answered," which can only mean one thing: that Super Bowl Sunday was Jack's last. Now we'll finally learn more about the entire tragic incident. Let the blubbering commence, America.
Creator Dan Fogelman recently spoke to Variety, teasing the heartbreaking TV event the show has been leading up to. Speaking about each of the Pearson kids' relationship with grief over their father's passing, he revealed,
And Kate was the one who had the hardest time with it. And so that's not going to go away, but what [the next episode] is about in a big way is a very sad, beautiful, ultimately thrilling and heartbreaking episode of television — but it's also about the bigger picture of what this show is about. It's probably inarguably our saddest episode. There's reward and beauty in this entire thing we're all doing together, and I think it's an important part of what we're doing.
Milo Ventimiglia has also admitted that Season 2, Episode 14, aptly titled "Super Bowl Sunday," will be "an absolute soul-crushing event." "I think the best thing I can say — or the worst thing I can say — is: It's going to be f*cking painful," he added.
Perhaps Tuesday's chapter of This Is Us will be an emotional palate cleanser? We can only hope to get a break from the echoing somber situations, but that probably won't be the case given the series' history. Even when this show isn't sad, it's somehow sad. Just knowing that Jack didn't make it makes those sweet moments with his family that much harder to watch. The Feb. 6 episode is called "Across the Border" and the synopsis reads: "The history of the Pearsons as told through the life of the family car." That sounds innocent enough... Oh, who are we kidding? If they cue the Van Morrison and show footage of this family in happier times, we are sure to be gutted. It's that easy.
And audiences aren't the only ones not immune to being wrecked by This Is Us' agonizing curveballs of sorrow. Mandy Moore responded to Dan Fogelman's Twitter photo that showed her, Sterling K. Brown, and Milo Ventimiglia after watching last week's episode — they all appear to have been crying. "I'm still not ok," she wrote next to three broken heart emojis.
Neither are we, Mandy. Neither are we.
"I can't wait for fans to see our Super Bowl episode. People will get a lot of answers and will be able to move forward," Mandy remarked to ET about what's in store on Sunday. "I think for everybody's sake it'll be a good thing."
We'll take her word for it, but that doesn't mean the whole thing is going to hurt any less.