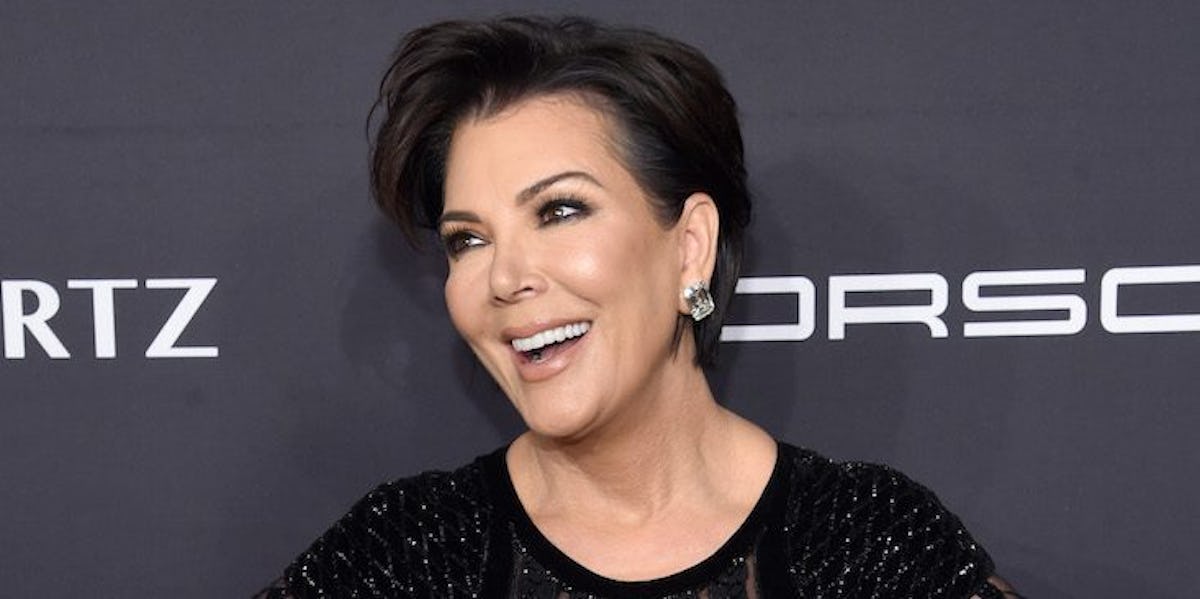 Fans Think Kris Jenner Planned The Kardashian Pregnancies & The Tweets Are Hilarious
Jamie McCarthy/Getty Images
In case you've been living under a rock this week, there are not one, not two, but three Kardashian/Jenner babies reportedly on the way. On Sept. 26, a source told Us Weekly Khloé Kardashian is reportedly pregnant with her first child with Tristan Thompson. This comes not even a week after sources revealed Kylie Jenner is reportedly four months pregnant with her first child with Travis Scott. And that report came just weeks after news broke that Kim Kardashian and Kanye West are reportedly expecting a third child via surrogate in January. Safe to say the Kardashian/Jenner family is going to be spending a lot of time at baby showers in the coming months. Since Kris Jenner has been the mastermind behind the entire Kardashian empire over the last 10 years, fans of the family are convinced the Kardashian pregnancies were planned by Kris Jenner herself as part of her master plan to keep the Kardashians famous forever. And honestly, where is the lie?
Mama Kris is the ultimate momager. She's been orchestrating the success of her children ever since Keeping Up With The Kardashians started, and she's so good at it, people believe she actually planned out her daughters all being pregnant at the same time. While I believe Kris Jenner is a genius mastermind who could make a tumbleweed famous, it's probably more likely that she orchestrated the press around her daughters' pregnancies, not the pregnancies themselves. Homegirl knows how to time things perfectly, so when she learned three of her five daughters were expecting babies, she started plotting her plan to reveal the news all in the same week the KUWTK 10-year anniversary special aired. You know, BECAUSE SHE'S A GENIUS. Kris, you're doing amazing, sweetie. And Twitter agrees.
Even people who aren't a fan of the Kardashians can agree that Kris Jenner is a goddamn genius.
Give Kris more money for this.
She loves her friends... as long as they know her daughters are more famous than them.
I am honestly so shook by all of this. I was at the gym yesterday when I got the notification that Khloé Kardashian was pregnant, and I sh*t you not, I was so "OMFG, holy sh*t, f*ck, LMAO" that I got off the treadmill, left the building, and went home.
Beyoncé: I am pregnant with twins. Kris Jenner: OK, LADIES, I need three of you pregnant STAT, we're getting as close to triplets as we can get.
Although no one from the Kardashian camp has confirmed Khloé and Kylie's pregnancy news themselves, I'm sure Kris is already planning a KUWTK spinoff called Kim, Khloé, & Kylie Take The Maternity Ward. Coming soon to E!
The only person in the Kardashian family who has been saying anything remotely related to all of the pregnancy rumors (read: truths, come on) is Kim. There was a story circulating saying that Kim wasn't happy about Kylie's baby news. The story, originally reported by People and aggregated by Harper's Bazaar, said a source claimed Kim was not pleased with the news at first. The source said,
Her first reaction was, 'Seriously?' She didn't respond well at first. It's like she and Kanye had gone on this whole journey to get pregnant for months, and now this happens to Kylie. She teared up. It definitely took a lot of time for her to process it.
Harper's Bazaar tweeted the story with a caption that read, "This sounds like a very awkward conversation..." Kardashian quoted the tweet and said, "This sounds like a very fake story..."
Yikes. The soon-to-be mother of three continued in another tweet, "And speaking of fake stories... The media is super shady for posting fake quotes from Caitlyn when she hasn't spoke to anyone." This was in response to a story that claimed Caitlyn Jenner is concerned about Kylie's pregnancy. Ryan Seacrest said on Live With Kelly & Ryan that Kris Jenner's official statement about the rumors is that "Kylie isn't confirming anything," so until Kylie does confirm, we can't assume that the story about Caitlyn's concern is true. And Kardashian was quick to point that out.
A source reportedly told Us Weekly, "Caitlyn is excited for Kylie but is also worried and thinks she is too young to move forward with such a big life decision like this." Look, I believe that Kim, Khloé, and Kylie are all expecting babies right now. The family would have shut these rumors down right off the bat if they weren't true. But what's obvious is they aren't going to let anyone else but them confirm the news, so it's probably likely that we'll hear the truth straight from their mouths on an upcoming episode of Keeping Up With The Kardashians. You know, so we can keep up with them and everything. *Buh dum sssss*. Thank you, I'll be here all week.