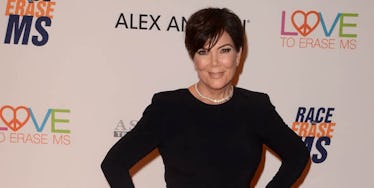 Kris Jenner's Father's Day Instagram Post Throws Some Serious Shade
Shutterstock
A very Happy Father's Day to all of the dads out there. Social media is on overload today, especially with posts from celebrities who are celebrating the fathers in their lives.
Of course, momager extraordinaire Kris Jenner would be remiss not to include a lengthy post to mark the occasion, especially considering this is her son's first Father's Day.
"To all the fathers out there who love unconditionally, who put their children first above all, we love you!!" she begins.
She includes a collage featuring a throwback photo of her late ex-husband, Rob Kardashian, her son Rob, son-in-law Kanye West, and the father of Kourtney's kids, Scott Disick (who has come under quite a bit of fire lately).
After a touching note to Rob, Kanye, and Scott, Mama Kris concludes with, "To all the amazing dads out there, Happy Father's Day!!!"
The one person missing? Caitlyn Jenner.
Caitlyn has recently released a tell-all memoir, The Secrets Of My Life, and it left quite an impression on her already-strained relationship with Kris Jenner's daughters, particularly Kim.
On Australia Nine's Network, Caitlyn told the Today Show,
I love Kimberly, I think she's a wonderful person. But, well, to be honest with you, I really haven't talked to her in a long time. I've kind of let everything calm down. So I kind of stay, you know, I keep my distance.
While on Ellen, Kim explained that she doesn't respect Caitlyn's recent actions and added, "My heart breaks for my mom, because I feel like she's been through so much ... I just feel like it's unfair; things aren't truthful."
Drama seems to abound in this family, and it seems Caitlyn is on the outs with quite a few Kardashians.
Last year, Kris did include Caitlyn in her Father's Day post. How bad have things gotten?
As of 2:10 p.m. ET, both Kendall and Kylie have yet to include a Father's Day Insta post, but the day is still young.