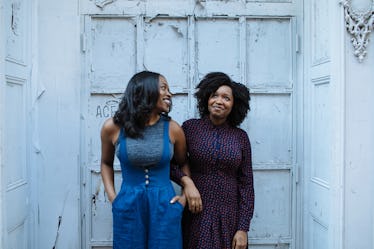 What To Get Your Sister For Her 25th Birthday, Based On Her Zodiac Sign
Jennifer Brister/Stocksy
You're two peas in a pod. Your sister's birthday is low-key one of the best days of the year. She's your other half, and the person you share absolutely everything with. Every adventure with her so far has been amazing, just because she's been there to make you laugh and love life. We try not to pick favorites in our family, but she's definitely someone you put as a priority. So, for her special day, you don't want to skip out on the chance to show her some appreciation. What to get your sister for her 25th birthday is simple, thanks to the stars. Look to the universe for some unreal gift-giving ideas.
Maybe the only thing you don't share is your zodiac sign. She's a summer baby and you're an adventurous Sagittarius. You've gone on some pretty epic road trips together and had dance parties when either of you were feeling a bit down. The compatibility is still totally there — even if you fight over stealing each other's clothes and such.
When you came home from college, or just spent that weekend in your hometown, she was the first person you really wanted to see. Long-distance relationships can be hard, and you're crossing all your fingers that you'll be able to spend your sister's birthday with her this year. Going out to lunch would be fun, or maybe hanging in the city for the day. As long as you get her present right, you know you're good to go.