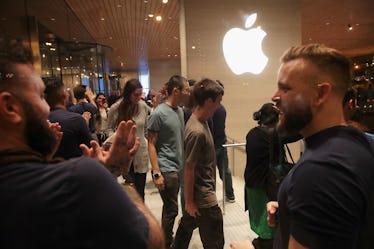 The Apple Store Opens Super Early On Black Friday 2017, So Get Your Wallets Ready
Scott Olson/Getty Images News/Getty Images
Well, the day is almost here, you guys. The day when you set your alarm clock earlier than you would for a work day, fuel up with leftover pumpkin pie for breakfast, and head out looking the best bargains you can find. That's right: I'm talking about Black Friday, and it's time to start preparing. Stores generally open their doors earlier than normal on the day after Thanksgiving, so it's good to make sure you know what time your favorites will open. If you're looking to score an iPhone X, you might be wondering what time the Apple stores open on Black Friday this year.
Luckily, the Apple store isn't going to make you beat the sun up just to get your hands on the must-have gadgets of the season. According to DealNews, the Apple store is opening its doors at 8 a.m. on Black Friday, so you can afford to sleep in a little — you know, just in case you hit the stuffing particularly hard this year and wind up in a monster of a food coma. Given that Apple has recently released its latest iPhones, it's also a great time to shop.
If you haven't been keeping up with the latest Apple news (and if you're in the market for a new smartphone), you're going to want to brush up on the latest releases — especially if you plan on getting to the Apple store at 8 a.m. on the dot on Black Friday.
The iPhone X was released on Nov. 3, and it has been dominating the internet ever since. With it's sleek edge-to-edge display that's made of all glass, it's no surprise that people are gushing over it. There are also amazing tech upgrades like Face ID, which uses facial recognition technology to unlock your phone. There's no word if there are any Black Friday deals happening in Apple stores for the iPhone X just yet, and it starts at $999 — so you might want start saving.
While the iPhone X tends to steal the show when it comes to the latest releases, you don't want to forget about the iPhone 8 and iPhone 8 Plus, which were released on Sept. 22. If the glass back design of the iPhone X strikes your fancy, but the price tag is a little too steep for even Santa to cover this year, then the iPhone 8 might be just what you need.
The iPhone 8 also has a glass-back design, which, beyond looking beautiful, is there to allow for wireless charging (yes!). With the price of the iPhone 8 starting at $699 and the iPhone 8 Plus going for $799, you can get some of the features that you love in the iPhone X for a lower cost. Especially around his time of year, savings are very important.
If you're looking for a gift for the music-lover in your life (or even yourself), you might be interested in Apple's AirPods. AirPods are Apple's wireless earbuds that connect to Bluetooth, and they're ready to pair with all of your devices that set up to your iCloud account. Oh, by the way, the iPhone X doesn't come with them.
The AirPods have been available for almost a year now, (since they were released on Dec. 13, 2016), but just because they're not brand spanking new doesn't mean they won't make the perfect gift. At just $159, they make for one of the more cost-effective Apple gifts that you'll find this holiday season.
Apple's releases haven't only been new iPhones and accessories, though. Some other exciting upgrades have come from the iOS 11.1 update, which included over 70 new emojis, and the introduction of Animojis on the iPhone X. Animojis are animated emojis that might even be reason alone to shell out the $999 for the iPhone X. Plus, you'll be able to partake in Animoji karaoke, which is all over Twitter.
Now that you know what Apple has to offer you this year, you can head to the Apple store when they open at 8 a.m. on Black Friday 2017. Just make sure you double-check your list so you can decide which must-have gadgets are making it into the stockings this year.
Check out the entire Gen Why series and other videos on Facebook and the Bustle app across Apple TV, Roku, and Amazon Fire TV.