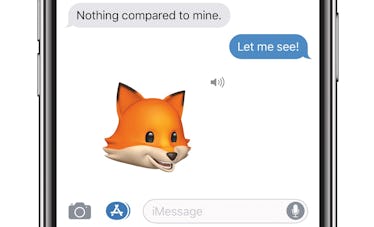 Using Animojis On iPhone X Will Totally Amp Up Your Text Game — Here's How To Do It
Apple
Normal emojis are about to become a thing of the past, my friends. Why? Because Animojis are here and they're about to become your favorite new iPhone feature... if you have an iPhone X, that is. If you were lucky enough to buy Apple's newest device on Friday, Nov. 3, you're probably super excited to start using the interactive Animojis while talking to your friends and family. As you probably know, Animojis are interactive emojis that mimic your facial expressions. Pretty sweet, right? Before you go crazy with smiling unicorns and kissy-face puppy dogs, let's talk about how to use Animojis on iPhone X.
As you may or may not know, iPhone X has a new facial recognition feature that allows users to unlock the phone, sign into apps, and make purchases with a mere glance through Face ID. However, this impressive feature is also used to bring your favorite emojis to life, because the True Depth camera recognizes what expressions you're making. In other words, the facial recognition will take your expression and apply it to your Animoji. I know, you're probably super excited — so let's figure out how to get there.
Sending Animojis
OK, everyone: If you have an iPhone X, take it out and get ready to have some Animoji fun. Once you have your phone in hand, go into your messages and decide who you're going to send your Animoji to. After you've chosen a text message strand, select "Message Apps." FYI, this is the little blue icon that looks like an "A" next to your camera to the left of your iMessage box. After you've completed those steps, select the Animoji icon.
Now, you can choose your favorite emoji from the selection, and then hit record! While your iPhone is recording you, your Animoji will mimic all the facial expressions you make. When you're done recording (you'll have 10 seconds), you simply tap "Send," and then your friends will be able to get an even closer look into exactly how you're feeling at that very moment — all thanks to your Animoji.
Oh, if your friends don't have an iPhone X (or an iPhone at all), don't fret! You can still send them Animojis. Sure, they might get a little jealous, but that doesn't mean they won't be entertained. In fact, your Animoji can send even if your friend isn't an iPhone person. Apparently, your Animoji will go through via MMS to phones that aren't iOS or Mac devices. You can even save your Animoji to your camera roll from Messages and re-send it as a .MOV file to your loved ones — regardless of what kind of phones they have.
In other words, no one is going to miss out on the Animoji fun.
In addition to sending Animojis via iMessage, MMS, and as a .MOV, you can even send it as a sticker. I was lucky enough to see this in action at Apple's iPhone X launch in New York City, and the process is really simple.
To send a sticker, you must follow the same steps you'd take to arrive at the Animojis in the Message Apps. Then, you make whatever expression you want, and then hold down on your Animoji. Once you have it locked, simply drag it onto a text bubble, and that's it! Your expressive Animoji will stay put and act as a sticker in your messages.
Before you dream up all the Animojis you're about to make, you should know your limits. On iPhone X, there are only 12 emojis to choose from to make your Animoji: a monkey, robot, cat, dog, alien, fox, poo, pig, panda, rabbit, chicken, and unicorn.
Yup, texting is about to get a lot more fun.