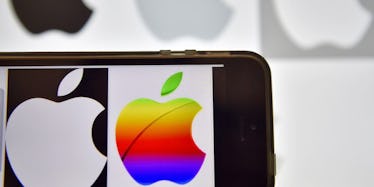 Apple's iPhone 8 Is So Gorgeous You Won't Want A Case To Cover Its Beauty
LOIC VENANCE/ Getty Images
On Sept. 12th, Apple's keynote address in Cupertino, California revealed some juicy new pieces of information that techies and iPhone lovers alike have impatiently been waiting months for. Just when the rumors about the new Apple devices started to really pile up, Tim Cook, Apple's chief executive officer, introduced the highly anticipated devices to the world. So if you've been wondering specifically what the iPhone 8 looks like, your time has come. The deets on this bad boy are live, and man oh man are they good.
The new version of the iPhone comes in a few different colors, including silver, space gray, and a gold finish, which is basically a mix between gold and rose gold, in case you were wondering.
One of the biggest and "prettiest" changes in the new phone is the sleek glass back. This was added so there could be a significant internal change in the model: wireless charging.
So, no, despite what you may believe, Apple is not actually a vindictive tech company that only added a glass back to make it so you're twice as likely to break your phone.
The glass back is actually there to accommodate wireless charging, a feature that, while new for the iPhone, is old news as far as other major types of phones are concerned.
That's right -- the iPhone 8 will be able to charge itself simply by placing the phone on a charging pad, no wires needed. Don't worry, though, you can still use your traditional charger if you really want to.
Another cool new feature of the phone is its single- and dual-lens 12-megapixel cameras, which are a definite upgrade from the previous iPhone cameras. The new lenses create outstanding photos with vibrant, realistic colors and more detail, and even allow you to take portraits in five different lighting settings, according to USA Today.
Dog selfie upgrade? I think yes.
The camera improvement applies to videos, as well. Apple executive Phil Schiller stated that the new phone has the "highest quality video capture ever in a smartphone."
Though the jump from the iPhone 7 to the iPhone 8 is undoubtedly significant, the two devices don't exactly look that different from one another, at least aesthetically.
The new iPhone 8 basically imitates the same model that Apple has been using since 2014 with the iPhone 6 and iPhone 6 Plus, and fans are visibly unimpressed.
Tweets about the iPhone 8 are honestly hysterical, providing a dose of sarcasm that is much needed with all the serious, high-tech discussion behind this release.
Several people called attention to the fact that the changes are so subtle in the new model of the phone, that they can probably just purchase a (now cheaper) iPhone 7 and pretend it's the brand new iPhone 8 without anyone noticing.
The deadpan tweets then shifted to making fun of the aggressive price of the shiny new phone, which is a whopping $699 for the iPhone 8, and $799 (or higher) for the iPhone 8 Plus. Some Twitter users even joked about having to sell their kidney just to buy the device.
Sacrificing a kidney for a glass back and upgraded video features? I don't know man, I just don't know.
Some tweets even made fun of how, as the iPhone's progress and technology "improves," other key features are taken away. The iPhone 8 may be more sleek and compact to some people, but others see it as a total ripoff, and they're not afraid to throw a little shade at Apple.
But, when all is said and done, we might as well laugh about it and agree it's all a matter of personal preference when it comes to these new designs and features.
Whether you're laughing at all this drama, totally intrigued by the new device's beauty, or pissed the f*ck off about the price, new features, or all of the above, the iPhone 8 is here to stay. Both the iPhone 8 and iPhone 8 Plus will be available for preorder beginning Friday, Sept. 15,  and the device will be on sale in stores beginning Friday, Sept. 22.
So preorder those bad boys at your own risk, or just order the iPhone 4 and pretend it's the newer, glassy version. Who can tell the difference, right?