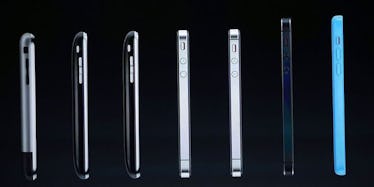 Do You Need A New Charger For The iPhone 8? You Might Not Like The Answer
Justin Sullivan / Staff / Getty Images
The time has finally come! After many agonizing months of rumors and what-ifs surrounding the iPhone 8, the official details of the new phone are finally here. Techies and Apple enthusiasts alike gathered at the Steve Jobs Theater in Cupertino, California to hear all the juicy new details about the iPhone 8, as well as several other of the latest Apple gadgets coming to the market. But when it comes to the release of any new phone -- especially a new iPhone -- most people are probably wondering one thing and one thing only: Do you need a new charger for the iPhone 8?
Now, if you're like me, you don't like change. It makes me uncomfortable to even think about parting with my 10-foot, obnoxiously long lightning cable that I take with me literally everywhere I go. Should it probably be thrown away because the cable itself is all frayed and the wires are exposed? I guess, but who cares about a little shock every time you plug in your charger? Uh, clearly not me. Think of it as a replacement for your morning cup of coffee.
Alas, if I do want to eventually purchase the iPhone 8, it seems like I'll have to suck it up and say goodbye to my half-broken charger and say hello to wireless charging.
Rumors have suggested for months that the switch to wireless charging was coming, and lo and behold, those rumblings turned out to be true.
According to BGR, a report from Apple analyst Ming-Chi Kuo has said that the iPhone 8 -- as well as the iPhone 8 Plus and iPhone X -- will support wireless charging. But the weird part here is that Apple apparently didn't make its own wireless charging pad in time for the release of these new devices (I like to procrastinate too, Apple). Don't worry though, because third-party wireless charging pads will be able to support the new iPhones.
I must not be the only one who really doesn't like change, as people don't seem too jazzed about the new charging method.
Other than being pissed about wireless-that's-not-really-wireless charging, the Twitter world was quick to point out the fact that Apple's not exactly reinventing the wheel here with this new feature.
If you're a wireless charging pad virgin like myself, you're probably wondering how the hell that thing actually works.
Non-techies, put your worries to bed, it's really not rocket science to figure it out. All you need is the charging pad, which plugs into the wall (I KNOW, I KNOW, IT'S NOT TECHNICALLY WIRELESS, BUT I DON'T MAKE THE RULES HERE), and then you simply rest your phone on the pad, and voilà. Easy enough, right?
Even though you'll have to use a third-party wireless charging pad for now to power up your iPhone 8, iPhone 8 Plus, or iPhone X, an Apple version will be available in 2018, according to TechCrunch.
The product is called the "AirPower," and what's especially cool about it is it can support multiple devices at once.
If you have a tendency to use every last one of your Apple products until they're as dead as the split ends in your hair, at least you'll be able to charge more than one of those bad boys at once, thanks to AirPower.
TechCrunch reports that the delay in launching the Apple version of the wireless charging pad is likely due to this slightly more unique, multi-device feature, which probably takes manufacturers a lot more time and effort to develop for full-scale production.
So, if you're down to ditch your beloved lightning cable and shell out hundreds of dollars for a slightly more upgraded version of the iPhone you probably already own, you can preorder the iPhone 8 on Sept. 15, and the device will officially go on sale in stores starting Sept. 22.