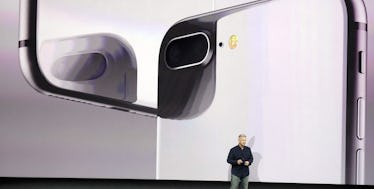 iPhone 8 Costs More Than A Transatlantic Flight, So You Better Start Saving
AP/REX/Shutterstock
The long-awaited release of Apple's iPhone 8 was finally, finally announced on Tuesday, Sept. 12. Apple held its annual keynote event at the Steve Jobs Theatre at Apple Park in Cupertino, California, and all of our questions were answered. Key among those questions was how much, exactly, the new versions of the beloved iPhone will cost, and as it turns out, the iPhone 8 will cost more than a transatlantic flight. So I hope you've been saving up.
After much speculation and way too many rumors to count, we have the real word from Apple CEO Tim Cook on the topic that matters most: How much is this thing actually gonna cost us anyways? Three phones were announced during the Sept. 12 conference; most importantly, we got the expected iPhone 8 and iPhone 8 Plus. So, do you want to know how much they cost? I hope you're ready for these numbers. We'll do it like a bandage, just rip all the information out at once, together:
The iPhone 8 will start at $699, and the iPhone 8 Plus will cost you $799.
Whew, OK fam, we made it through that. Take a deep breath and let's consider what those prices actually mean. If I wanted to take a nonstop flight from New York to Stockholm, Sweden, I could very easily get one for under that first $699 price tag. So there's your big existential question: Would you rather travel to Europe or get the new iPhone?
But then, more importantly, what will a trip to Europe matter if your Instagrams won't be as beautiful as possible without the newest iPhone? If you take a trip and your pictures suck, did it even matter?
People on Twitter had some thoughts about Apple's pricing.
Meanwhile, some people considered the possible positive implications for their wallets of the new iPhone coming out... namely, that the older models might now cost less.
One helpful tweeter wants to remind you that you do not, in fact, have to drop a couple hundos on the newest iPhone release.
But if you are still interested in getting the iPhone 8 or iPhone 8 Plus after seeing its price tag, there are some pretty neat perks coming with the new models.
The iPhone 8 and iPhone 8 Plus will have super durable glass on both the front and back of it and they will come in silver, space gray, and gold. Meanwhile, the newest version of the 10-year-old necessity will be water and dust resistant, which, like, THANK YOU, APPLE. FINALLY!
And, of course, speaking of things that, like, matter, the camera will be much improved and the speaker will be louder than in old versions. So you can finally, finally, finally play your new favorite song out of your iPhone speakers at a little get together without having to resort to the old "drop it in a cup" ploy to try and make it loud enough for everyone to hear. Yay!
Those new features got you interested enough to drop all that cash on the iPhone 8 or iPhone 8 Plus?
Alright, go ahead, you got some real luxury funding there! At this point, you're probably wondering when you can get your hands on the new iPhone.
Well, pre-orders for the iPhone 8s will begin Sept. 15 and the new phones will go on sale Sept. 22. So it won't even be that long until you get to test out your investment and decide if it was worth it!
iPhone 8 not good enough for you?
I mean, wow, OK, cool for you. But there is one more option. On Tuesday, Apple also announced the release of iPhone X, a totally new phone for the iPhone's tenth anniversary. The iPhone X has a whole host of new features, including the long-rumored facial recognition system, super cameras, wireless charging, and a glass and stainless steel design. Happy spending!