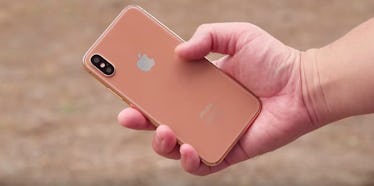 Apple's iPhone X Is Everything We Wanted And More, Here's What To Know
Guys. It finally happened. Apple threw a curveball during their keynote event on Sept. 12 and announced a few new iPhones scheduled to be released this fall. In addition to the iPhone 8 and iPhone 8 Plus, they announced the iPhone X... and it's everything we wanted and more. I know you're probably thinking, "What is iPhone X, anyway?" Sit tight, because you're going to love it.
First of all, the iPhone X is completely different than the iPhone 8, and they two can be easily confused... especially since most recent rumors only referred to the new iPhone as "iPhone 8." I know this is a lot of information, but just remember this: The iPhone 8 and iPhone 8 Plus are basically updated versions of the iPhone 7. The iPhone X, on the other hand, is an entirely new smartphone with features that'll leave you #shook.
The highly anticipated iPhone X is the phone we've been talking about for months. Tim Cook announced the new cell at the end of Apple's keynote event (following Apple Watch Series 3, iPhone 8, iPhone 8 Plus, and more), and its features are far superior to the other devices. Again, they threw a major curveball at us and it's a lot to take in -- so read carefully.
Let's talk about the iPhone X's gorgeous appearance -- on screen and off. The iPhone X will come in two colors: Space Gray, and Silver. It's made with an all-glass design with a 5.8-inch Super Retina display (it's so pretty that you probably won't want to cover it up with a case). Plus, it has the highest pixel definition out of every iPhone Apple has ever released. That's seriously impressive.
To make the phone even more captivating, let's talk about the way you unlock it. But first, keep in mind that this is where the iPhone X differs from the iPhone 8 and iPhone 8 Plus. The iPhone X will have facial recognition called Face ID, and that's what will unlock your phone. Say goodbye to codes and forgetting passwords, because you'll be able to unlock your iPhone X with a scan of your face. The rumors were true, and we've never been happier.
The Face ID can be used to do more than just unlock your phone, though. The iPhone X will come with new animated emojis called "Animojis," and they'll mimic your facial expressions based off the Face ID. In other words, if you're gasping at something and also want to send a panda emoji that's gasping, you can do it. Some might call it creepy, and others will call it innovative.
In case you aren't already in love with Apple's iPhone X, I'll tell you a little more about it. The rear cameras on the newest upcoming device are vertical instead of horizontal, and they'll have dual optical image stabilization. In other words, the pictures you'll take on the iPhone X will be extremely high quality. Plus, the iPhone X will have a "TrueDepth" camera that'll bring Portrait Mode to the front. Can you imagine the selfies you're going to take with this phone?!
I know the iPhone X seems too good to be true, but I'll give you another tiny details that'll really blow your mind: Apple's iPhone X will have wireless charging. Yup. This means you'll never find your charger tangled up in your purse ever again.
Now that you know about some cool new features the iPhone X will bring, let's talk about why it's even called "iPhone X" to begin with. Of course, "X" is the Roman numeral for 10, and this iPhone marks the 10th anniversary since Apple released its first iPhone in 2007.  Plus, Apple pronounces "X" as "ten," which makes sense about the name they chose for the ten-year anniversary phone.
The iPhone X will start at $999, and it will be available for pre-order on Friday, Oct. 27. The phones will start shipping on Friday, Nov. 3. Start saving!