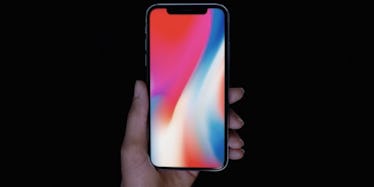 Here Are The Colors The iPhone X Will Come In, So Yeah, Start Freaking Out
Apple
Shortly after unveiling the all-new iPhone X at its Tuesday, Sept. 12 keynote, Apple lovers (and yeah, I'm gonna go ahead and say its haters, too) are unhinged with questions and concerns over what colors the iPhone X will come in. The phone, due out in just a few short weeks (it's available for pre-order beginning Friday, Oct. 27 and in stores beginning Friday, Nov. 3), has left the internet stunned, and now everyone is pinching together pennies in an effort to take home Apple's brand new smartphone.
According to Apple, the iPhone X will debut in two different colors: Space Gray and Silver. And if you're bummed about the lack of color options, don't be. The phone, which Apple dubs as the "future of the smartphone," boasts an all-new 5.8-inch Super Retina display, rear cameras with "dual optical image stabilization" so that you can take much, much better photos than you're taking right now, Face ID (which will change the way you unlock, lock, and pay using your phone), Animojis that'll put your poop emoji usage of today to shame, unbelievably good portrait lighting, and dozens of other bonus features.
So, yeah, let me ask you again: You still feeling bent out of shape with just two color options?
Didn't think so.
To fully whet your whistle, these photos of the yet-to-be-released iPhone X are a must-see:
A press release sent out in conjunction with Apple's Tuesday, Sept. 12 keynote also expressed the brand's overall excitement about the iPhone X. "For more than a decade," a statement by Jony Ive, Apple's chief design officer, reads, "our intention has been to create an iPhone that is all display. The iPhone X is the realization of that vision. With the introduction of iPhone ten years ago, we revolutionized the mobile phone with Multi-Touch. iPhone X marks a new era for iPhone — one in which the device disappears into the experience."
Uh, yeah. I'd say so.
To be totally honest, fans of the iPhone X aren't really missing out when it comes to color schemes. The phone is flooded with so many fun, exciting, and technologically advanced updates that, with so much to see and do, you won't even really notice the fact that your phone isn't gold or pink or red or blue.
Philip Schiller, Apple's senior vice president of Worldwide Marketing, also said in the Apple press release that the iPhone X is all about Y-O-U. Said Schiller:
iPhone X is the future of the smartphone. It is packed with incredible new technologies, like the innovative TrueDepth camera system, beautiful Super Retina display and super fast A11 Bionic chip with neural engine. iPhone X enables fluid new user experiences — from unlocking your iPhone with Face ID, to playing immersive AR games, to sharing Animoji in Messages — it is the beginning of the next ten years for iPhone. https://twitter.com/ThePopHub/status/907670350204370949
But if you're looking with a phone with a bit more color, the iPhone 8 and iPhone 8 Plus colors are definitely something to write home about. The phone, which features tons of up-to-date and really exciting features (like new glass and aluminum designs, new Retina HD displays and A11 Bionic, Portrait mode and Portrait Lighting, wireless charging, AR optimization, and better video), comes in space gray, silver, and gold finishes.
And, last but not least. For those in the crowd who are legitimately bummed that Apple isn't dropping the iPhone X with more color options, rest assured. Just because the brand isn't doing so right now doesn't mean that they won't in the future, or that they won't drop a few different color options six months from now. After all, Apple absolutely bypassed the iPhone 9, so who knows what else they'll do.