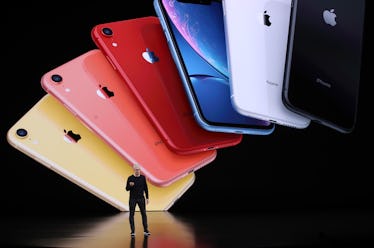 Here's How Long Apple's Keynote Announcing New iPhones Will Likely Last
Justin Sullivan/Getty Images News/Getty Images
Apple CEO Tim Cook is set to virtually address fans from Apple Park in Cupertino, California, on Tuesday, Oct. 13, for the company's highly-anticipated keynote event. Considering the tech giant is expected to roll out its 5G-capable iPhone 12 lineup during the event, you might be wondering how long Apple's keynote event will last. Here's why you might want to set aside a good chunk of time to tune in.
The event — which begins at 10 a.m. PT (1 p.m. ET) — is expected to last about two hours, judging from the calendar invites from past events, but this year is a little different. Apple's 2019 event lasted one hour and 49 minutes, but that also included iPad and Apple Watch announcements. For the 2020 news, these events were broken up into two different keynotes, and the iPad/Apple Watch event on Sept. 15 only lasted about one hour, so it's likely the Oct. 13 event may be closer to that, different from the nearly two-hour affair last year — but you never know, so be sure to carve out the whole two hours.
Arguably the most hyped product launch of the day will be the iPhone 12, which had its original release pushed back to the coronavirus pandemic. Apple hasn't confirmed what will be announced on Oct. 13, but there are plenty of reports for what the tech company has up its sleeve. Ahead of the official kick-off, a number of websites shared reported leaks of what the highly-anticipated lineup of iPhones will look like. According to The Verge, customers should expect four different devices ranging in price from a $699 iPhone 12 Mini with a 5.4-inch display to a 6.7-inch iPhone 12 Pro Max, which will retail for $1,099.
Citing leaker Kang's post on Weibo, the publication said the iPhone 12 Mini will be available for preorder starting on Nov. 6 or 7 and will be officially rolling out on Nov. 13 or 14. Meanwhile, a 6.1-inch iPhone 12, which will cost $799, will be available to preorder on Oct. 16 or 17, and will be released on Oct. 23 or 24.
The higher-priced 6.1-inch iPhone 12 Pro and iPhone 12 Pro Max, which will reportedly sell for $999 and $1,099, will reportedly take cues from the new iPad Pros with a lidar sensor for calculating depth as well as a telephoto lens with an enhanced optical zoom. Preorders for the Pro will reportedly begin on Oct. 16 or 17, with a release on Oct. 23 or 24, while the Pro Max will be available for preorder on Nov. 13 or 14, with a release date on Nov. 20 or 21. In short, you might have to wait a bit to get your hands on some of these models.
As always, only time will tell what new products customers will be able to get their hands on this year, but you can tune in at 10 a.m. PT/1 p.m. ET and stream the event straight from Apple's website to be one of the first to know.
This article was originally published on